The Adventures of Kidsan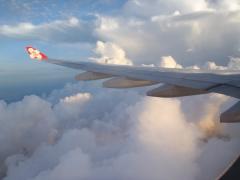 27th Apr 2012 - Asia 2012




The wonders of modern technology...



So here I am cruising at 36,000ft writing a blog entry that I'll publish when I find a free wi-fi network in KL. Listening to my music and about to watch a movie I want to watch, all on a budget airline with no frills provided (and yes with my own food too). Advantages (?) of travelling Air Asia and taking my little Asus eee netbook travelling :) Also advantages of paying extra $20 for a chance of 2 free seats next to you - and it worked! So am also stretched out in comparative luxury for economy class! Not bad for a $350 flight to KL! Not all has gone without a hitch so far, despite having just left NZ. The fuel bottle for the cooker got confiscated at Christchurch airport (sorry Anna-Marie!) - the check in guy was actually pretty good about it, saying he could see it had been all cleaned out but couldn't let it on with the residual smell... pointed me at a bag place that could clean it up for a fee, they did (and quite thouroughly, actually for free in the end), took it back and he was fine with it but his two bosses vetoed it and were still adamant it couldn't go on the plane! His two bosses happened to be female but I'll decline on making any comments that could be interpreted as sexist... Still, rrr! Anyway a small frustration that topped off an otherwise pretty good sending off. Got dropped off at the airport in Welly by my dad and brother (thanks!) and had a nice last drink and bite at the Roxy in Miramar. Then down to Christchurch for a couple of hours at a CUTC (Christchurch Uni Tramping Club) party with a few old friends from Welly in attendence and then back to the airport and on the plane. Party was quite a good way to unwind and relax a little (thanks Terra!), somehow its like I only just realised today that I'm actually heading back to the craziness of India and felt a little apprehensive about it all! But all disappeared now I'm on the plane and replaced by excited anticipation! Fascinating stuff anyway, just testing how dedicated my following is :) I'm sure there will be more exciting reports in the near future! Stay tuned...



Diary Photos
27th Apr 2012 Amongst the clouds
Flying into KL
---