New Zealand Adventure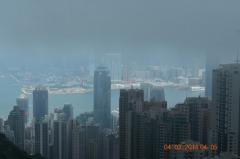 4th Mar 2018
Panoramic trip to Victoria Peak on Hong Kong Island
Leisurely start to day with breakfast at the hotel. I opted for vegetable noodles and dim sum and Bernard had a Full English( Hong Kong style). Then got hotel courtesy bus to the Peak Tram depot. Long queues - if we had remembered to buy an Octopus Travel card Earlier we could have missed the queues! Lovely tram funicular ride to the Peak which would normally have fantastic views over Hong Kong and the harbour but shrouded in fog! Still worth the trip. Then went in search of the longest escalator in the world. Bit disappointing as actually a series of escalators up and stairs all the way down. Gave access to a really eclectic mix of shops. We got off halfway up and went to have a cuppa in a M and S food store. ( very adventurous!)
We wandered around a little more, taking in the Man Mo Temple and bought our Octopus Card and caught the MTR (tube) back to the hotel. Incredibly cheap 18pence for a few stops. After a rest break at the hotel, we ventured out to cross to the mainland on the Star Ferry to see the Symphony of Light show where many of the Island skyscrapers are lit up and there was a laser show. We stopped to have a meal in a very nice Chinese restaurant that overlooked the harbour first. Most Chinese seem to share lots of dishes and drink tea with their meals. Then watched the Light show that was quite disappointing. However the skyline on its own was fantastic. Came back on the MTR and had a drink in the bar then made our weary way up to bed!
Diary Photos
4th Mar 2018 32703DDC 15A3 47D9 9E5A 706E5F8822F2
Skyscrapers in the mist!
---
4th Mar 2018 71C0E522 35FB 4D85 A48B 1C7913DA5334
Peak Tram
---
4th Mar 2018 A21CB00F F0C0 4867 A86E 1236BFE9EEF4
---
4th Mar 2018 7374B6EA EB4F 4EFF 8777 8683F15E4255
Man Mo
---
4th Mar 2018 37F5003C 24DE 44DB 9B60 4C54927971DC
Symphony of Light?
---