New Zealand Adventure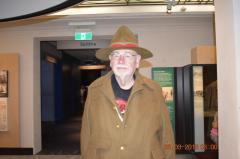 8th Mar 2018
Day 7 Fantastic Auckland museum(s) and flight to Christchurch
We had seen most of the shops yesterday on our walk down Queen Street to the harbour. There were a few department stores reminiscent of ours about 20 years ago. Many single storey houses in suburbs also looked very dated. Yesterday Bernard also watched the end of the fourth ODI cricket match which NZ won. So the last match on Saturday should be good.
Today the hotel concierge recommended the War Museum and as it was threatening rain we thought this was our best option for the day. We walked to the museum which is in the Domain- a huge public area with lovely gardens. It was a long walk but worth it. The Domain had been host to a vast parade of NZ and Pacific Islands soldiers going off to WW1. Only about half of the Maori Regiment came back unscathed.
The museum really consisted of five museums but we spent most of our time in the War Museum. Interesting to see the NZ perspective on WW1 and WW2. We didn't know that it was actually a NZ Airforce Officer that directed The Battle of Britain. They had a full size Spitfire in the museum.
We also visited the Maori museum and the Natural History museum and saw the native birds including the Kiwi and the Kakapo which is nearly extinct. We then sat through a show about volcanoes and earthquakes complete with sound and sensory effects. It was not very reassuring to know the whole of NZ is actually a string of volcanoes!!!!
Walked back to hotel and caught Skybus to airport. Nice Air New Zealand flight to Christchurch and we passed over the Charlotte Sound between North and South Islands and the mountain range that forms the backbone of South Island. Only about an hour's flight but we were served a lovely Sauvignon Blanc ( beer for B) with a minute cheese and biscuits platter.
Got taxi to Towers on the Park motel which is right on the edge of lovely Hagley Gardens and importantly only 6 minutes from the Cricket Ground. No restaurant but we have a kitchen so after having a nice Thai curry at a local restaurant that Bernard had researched, we bought some breakfast items and came back to the motel. Seem to be back into our routine now having both had a jet leg moment whilst waiting for the plane earlier.
Diary Photos
8th Mar 2018 B ready for action!!
---
8th Mar 2018 A poignant reminder. Lest we forget.
---
8th Mar 2018 Trisha with Maori friend at War Museum
---
8th Mar 2018 Kakapo bird -almost extinct. This one definitely is!
---
8th Mar 2018 View of Auckland harbours in distance from War Museum
---
8th Mar 2018 Art Deco Hotel Scenic Auckland
---