New Zealand Adventure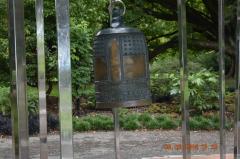 9th Mar 2018
Day 8 March 9th. Christchurch after 2011 earthquake
Had breakfast at motel and then strolled across Hagley Park into Christchurch centre. The park is beautiful and includes a wonderful Botanic Garden. They have punts on the River Avon - talk about deja vu for a Cambridge resident!
We followed the tram line around the compact city centre hoping to find the shops that are now held in lorry containers since the earthquake. We saw the cathedralo that was badly damaged and needs to be demolished. However, they have now decided to restore it to its original state. Whilst in Cathedral Square we were approached by a Christchurch volunteer guide who explained much about the earthquake. Her own house was slightly damaged but was then devastated by liquefaction which is when all the sand and sludge gets liquified and pushes up through any available space. Many people were without running water and electricity for weeks after the quake. She told us to visit the Quake museum which was an eye opener and we sat through a sample earthquake! Apparently the container shops had closed the week before as they now had new premises. The Victoria Park had reopened that day after being reconstructed so we were lucky to see that.
We saw the cardboard Cathedral that actually holds 700 people and will be used until the new Cathedral is rebuilt. We also saw the 185 white chairs that are a memorial to the 185 people who died - mainly from one business building.
We went home and freshened up then walked back into town to The Trenches which was a RSA sponsored restaurant ( Returned Services Association similar to our British Legion). We had a lovely meal - scrumptious prawns for me and a steak for Bernard, then strolled to see the Festival of Lanterns on the river. We were going to have some beers by the river but it was full of young people with no oldies in sight, so we went back to the hotel to get ready for the cricket tomorrow!
Diary Photos
9th Mar 2018 0DF5BF13 6CE0 423A 92C9 4A5CB271181C
The Peace Bell, Hagley Botanic Garden (HBG)
---
9th Mar 2018 813FE18D E1DE 45B3 B34D 481C36E2798B
The rose garden in HBG
---
9th Mar 2018 6AE13C2C 6E3E 4ABB 822B E5C5732907E3
Formal garden in HBG
---
9th Mar 2018 2F9586B3 CF06 4886 98EB FF731622AAD0
Nice fountain in HBG
---
9th Mar 2018 8CD1CCBA 9FDF 41B5 B67F 035071011E6C
Victoria Park
---
9th Mar 2018 FA9D2D0E A1B6 4594 8B90 6114926806DE
Christchurch Tram
---
9th Mar 2018 3BD03852 A8CE 4C41 B8DA B87A03912F87
Ruined Cathedral
---
9th Mar 2018 50574C4C 4E1D 45E2 A62E 6C72C95BD9F4
Bridge of Rememberance.
---
9th Mar 2018 B986D861 2A4A 426F BF69 40B317DA1020
185 chairs!
---
9th Mar 2018 5722FC1F E2F7 43D1 9852 6A3CD04C2D33
"Cardboard Cathedral"
---
9th Mar 2018 71A65A72 D6E7 445D B843 BFFCC6A8D1BD
Punting on the Avon
---
9th Mar 2018 DE6B3E2A 1EA6 462C 99BA 89CF70C38E88
The Turtles!
---
9th Mar 2018 7BFE8806 D159 4073 98DB 91D98E0F5CFD
Lantern Festival
---