New Zealand Adventure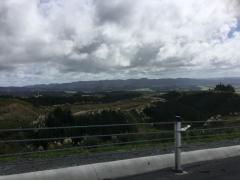 26th Mar 2018
Day 25 Hamilton to Bay of Islands -last stop on NZ - pity!
Early start so will stop on journey for breakfast once we have a few miles under our belts. Met our first traffic jam near Auckland and lots of roadworks around the city. Stopped near Red Beach for a lunch break. The beach is not red! Very slow quite boring journey up to Paihia. Then found we had to take a detour on another major route to get to the Bay of Islands. Took about 6 hours in total including the lunch break and petrol stop.
Arrived in Pahia - beautiful location on the bay. Hotel actually on the front and we have a side view of the bay if we stretch over the balcony. T went for a swim and relaxed by the pool and B watched the cricket until temperature dropped enough for a stroll. Reached 26c on our journey but 24c in Pahia.
Went for a stroll around Paihia and booked a boat trip to Cape Brett tomorrow. Having problems with SnapBridge sending photos to the IPad so you will have to wait to be bored with sheep photos from yesterday and Bay of Islands today.
Diary Photos
26th Mar 2018 Lots of pampas grass all along the route by the roadside
No Description
---
26th Mar 2018 First view of the Bay of Islands
No Description
---
26th Mar 2018 Our hire car - better view than the scenery here!
No Description
---