Beyond My Comfort Zone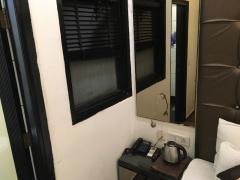 9th Oct 2017
I'm Here
Had a brilliant flight, did not sleep much but the time seemed to go quickly.
When I arrived at the airport I had to go to the 'e visa' area to get through immigration OMG there were so many people of all nationalities- it's took over 2 hours to get to the desk - very strict - photographed and they took finger prints - not a smile in sight!!
Once I got through I was in the main departure lounge and first though was I need to get some local currency - I saw a Thomas Cook stand and went there I was well and truly ripped off!! For £70 I got 5500 rupees which I now know is worth just over £40!!!!
As promised there was a guy waiting for me to arrange my transfer to the hotel - oh I am using the word hotel just to be polite!!!
The journey from the airport to the city was about an hour - it was a constant beeping of horns and near misses - people just walk in front of cars and it's comes across as a free for all. It's is boiling hot.
Arrived at my 'hotel' signed in and shown my room - well I have an ensuite with a proper loo and the shower is well - not what I'm used to, I've no idea what the bucket is for!! Went to open the blind and nothing I mean no window - I would guess it broke as some stage and they have put a bit of tin in place of the glass, so no I don't have a room with a view.
Have at least made a decent coffee (good old Nescafé).
Am now sat waiting for 5.30 (an hour to go) to meet up with my fellow travellers- so at the moment it's a bit bleak- I'm not going to go out on my own don't feel confident enough at the moment - the 'hotel' is down a side street so don't want to take a chance.
Got a couple of adapters at the air port - my room certainly is not compatible so not much chance of charging my phone here - they do have wifi though!!
Diary Photos
---