Beyond My Comfort Zone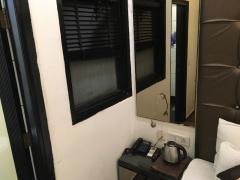 9th Oct 2017
Nice Group
Well have met and spent the evening with my fellow travellers - really nice bunch of people - good age mix - and no I'm not the oldest!!
It would appear most of the group are only going to be with me for the first 6 days - they then return to Delhi and I will meet up with a new batch of people in Agra.
Tour leader is very nice speaks great english and she has managed to sort out a power adapter for me at the 'hotel'
After our group meeting we decided to all go out for dinner and arranged to met at 7pm - well to be honest I'd been shut in my room for 4 hours and did not fancy going back up so went and sat in the bar and got talking to a group who had just come to the end of a trip and they were giving me all sorts of hints and tips.
We walked through the market to get to the restaurant- it was amazing - the noise was deafening, the amount of people about was unbelievable- it reminded me of how it is when the last song is played at a concert and you all head for the exit!! It was crazy - would have loved to have stopped to take some photos but was worried about being left behind but a few of us have said we will go back tomorrow.
Went into a hotel restaurant for dinner - ummm very good - I went against my better judgement and had a chicken curry with naan bread - delicious- that with a beer cost £7 !!
It's was a good laugh and great to get to know the rest of the group better. It's would appears I am not the only one with a 'fake window'. Have shower curtain envy one of the group has a pepper pig shower curtain - I have the rings for a curtain but thats it!!!
One thing is very evident - the place was full of men on a night out - no couples or groups of just women just groups of men.
Well am in my 'sheet liner' need to get some sleep - got an 8am start tomorrow we are going on an excursion around Old Delhi - going on the metro then on a rickshaw!! Could be an eventful day 🙂🙂
Diary Photos
---