Beyond My Comfort Zone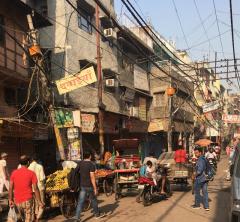 10th Oct 2017
Mind Blowing Day
We started today with an 8 am meet in reception - a quick brief as to where we were going and how the metro system works. All I had to really remember was 3 stops get off then 4 stops !!
The walk to the metro stared off fine - and tickets were purchased - well in fact they are small coins that you tap in (like our Oyster card) between station and at the end of our journey you give your coin up. You have to go through security and photography is not allowed - apparently the translation for escalator in Indian is ' stairs moving using electricity' their sign for the metro is a take on our underground sign. On the metro there are separate sections for women - which is far less crowed and feels safer so we used this while the men in our group had to suffer the packed sections of the train. The difficulty is getting on and off quickly enough - in fact our guide nearly got left behind!!
Once we reached Chandni Chowk which is in the centre of Old Delhi - it's a very busy shopping area - a market full of everything you can imagine - it's a real play on your senses - sound and smell !! Some of the sights are unbelievable- an electrician would have a sound day here - there are electrical wires running all over the place - it's a real wonder people are not dropping dead before your eyes through electrical shock!!! We walked for a while then we all jumped into rickshaws to take us to one of Delhi's oldest mosques. Being on a rickshaw was an experience - our 'driver' was no more than 15 and there was nothing off him - yet he cycled us through those narrow streets and busy roads with no problems - hope I get chance to get another go on a rickshaw - I am amazed they don't get knocked off their bikes.
The Oldest mosque is Jama Masjid - very impressive building - photos are on my camera so can't share them at the moment - we had to take our shoes off to go in and they then 'gown' you up - you have to pay to take in your camera about £3 - the guide did not come in with us (she looked after our shoes) so not really sure what the whole place was about - apparently up to 25,000 people can go in at one time - there is a pool in the middle and people were washing - to be honest it did not look very clean, there was lots of bird poo about so was quite pleased to get out.
After this we walked through the manic town to a Sikh Temple - WOW it was amazing!! Really did not know what to expect - we were initially taken to a room where we met with a Sikh who let us know he would be showing us around and he would give us the history and let us know when we could take photos but of course we had to respect those that were there praying.
Before we went in he tied a scarf around my head, we then had to wash our hands and walk through a pool of water. Once we entered the building I was amazed at the beauty - we were told we could sit at the back and just listen and watch what was going on - it was really moving - he then took us outside and explained what was happening and the meaning behind it all - nothing heavy, it was so interesting. He then spoke about the community kitchens - they feed on average 21,000 people a day - every religion and race is welcome with no questions asked - they all seem to help one another. We saw the kitchens, huge woks and pots - some women were sitting making chapati's and I was invited to help - which of course I did - loved it.
We then went into a massive dinning area were they were laying out rugs or sit on and we were invite for breakfast - it's was OK, some chapati's (don't think it was the ones I made!!!) some sort of lentil curry and rice.
Well of course a free meal does not come without some sort of payback - washing up!! I've never seen such big sinks !! But yes sat on a bench washing dishes!! Oh and on the way out I was asked if I would like to help by peeling a few potatoes - of course I did it ( can't remember the last time I peeled a spud!! That's was M & S is for !!)
But on a serious note it was a fantastic experience and I hold my hands up I know very little about the Sikh religion but in the few hours I was there I feel I should know more and will make an effort to have a greater understanding.
The afternoon was free so a few of us went to the Red Fort - steeped in history and an amazing building - it was so hot and being honest I was exhausted so did not really get the most from it. Enjoyed sitting in the gardens with chipmunks running all over the place.
We then managed the metro back to our hotel with no real drama. A few of us need to get some cash - well I can truly announce that Delhi has run out of money - 3 of us went to 5 ATM,S and all of them have run out - everyone seemed to be trying to get money and there's nothing - on the way back to the hotel we were so hot and bothered we stopped and had a few beers - they went down well!!!
Once we got back we contacted our guide and she seems to think we will be able to get money tomorrow at our next stop Jaipur.
Must go dinner in half hour and I am starving.
Diary Photos
---