Beyond My Comfort Zone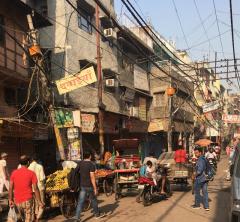 10th Oct 2017
Early Start Tomorrow
Went to a great different restaurant this evening again excellent food - I had Muglai Kaddish Gosht - basically lamb curry with naan - excellent - we are all getting to know each other better now so there was a bit of sharing going on so good to try several different dishes.
Then the news - our train tomorrow leaves at 6am so we need to leave the hotel at 5am !! We then have a five hour journey to Jaipur. Most of us have voted to see a Bollywood film in the evening so looking forward to that.
Time to get my head down - bit of any early start tomorrow.
Diary Photos
---