Beyond My Comfort Zone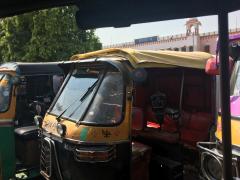 11th Oct 2017
4am Alarm!!
Time to leave Delhi and head to Jaipur - a five hour train journey.
We met in reception at 5am - I had real trouble getting everything back into my bag - I had to resort to sitting on it!!
Picked up by cabs and driven to the main train station - could not believe how busy it was - but so many people asleep on the streets - men were even balanced on their rickshaws sleeping!!
The station was not too busy - lots of security - we had allocated seats so it was quite civilised and we were at the start of the trains journey so did not have to try negotiating around bodies. Got a great seat - window with a table - well the actual journey was not what I expected - comfy seats and air con. When we pulled away a guy came along and gave everyone a big bottle of water, then came the news papers !! Then over the next hour we got a cartoon of mango juice, tea (don't drink tea but loaded it with sugar and it was sort of ok) then a breakfast tray - bread fine but then I lifted the lid on the tin foil dish and there were a few very thin chips (about 5) about 10 peas (not that I actually counted them) and a couple of chickpea type fingers - they were ok - I was watching what the locals were doing and they were spreading them on their bread - no thanks !! I did eat them but they were odd - oh and I left the chips and peas!! While all this was going on I was taking in the passing scenery - how these people live like this is beyond me - so many family's just living under a piece of plastic - whole areas were just like this. Men were just sitting by the side of the train tracks - just sitting on their hunches- staring - guess with nothing to do. The rubbish was piled high and kids with white sacks were walking on it picking bits up - not sure what but guess plastic or something that could be sold on.
The problem is so huge I really don't know where the government can start to try and resolve this - guess it starts with education but an overwhelming task.
We passed through some countryside where people were working in the fields - by hand and again just sitting - and of course our train goes through packed and none of the local occupants gave them a second glance.
when we arrived at Jaipur we were met by a beggars and we had been warned not to give them any attention or money - it really pulls at your heart strings - young girls with babies- but then a young girl came up to me begged and pointed to her tummy saying 'please baby' she could not have been more than 8 !!!! - and no I did not give them anything.
We were then told we would be getting tuk-tuks to the hotel - never have I every experienced anything like it - loved it was it was utter madness - there were three of us in my one - the traffic and they way they drive is well - crazy - the noice deafening but somehow I felt safe - they seem and have confidence in the fact that everyone is weaving in and out and no one is going to hit you.
Got to the hotel - very nice - nice grounds so you can sit out - room is OK - think I have the smallest room - everyone else has fridges, sofas, verandas but not me - oh I do sort of have a window - looking out on the corridor!!! But to be far the room is fine - after the last hotel anything would be better - it's clean, the showers works and the air con does not keep me awake.
After a bit of a rest and lunch we were told we were going to a place where they make hand printed textiles then to see gem stones made into jewellery. Both were really an opportunity for local business to sell to tourists - yes they were interesting, the process used to make the products but then its take a seat, have a cup of char - and let me show you what we would like to sell to you. Really liked some of the silk scarves but they were so pushy I did not buy anything except when we went to the jewellers I was looking at a sapphire ring - anyway this guy was showing me the gemstones and saying he could get it made into a ring - went through the whole thing and he wanted £350 I said no sorry and walked away - went down stairs and he appeared and showed me the same ring but the stone was a bit smaller (did not look any different to me!!) and offered it to me for around £100 - anyway it's being made for me and 'should be delivered' to the hotel tonight - fingers crossed 🤞.
The evening saw most of us going to a Bollywood movie - such a laugh, the whole experience was so funny - it was shown in a theatre - the place was packed with kids, babies and grown-ups - they were cheering when the obvious star came on screen, clapping and generally getting so excited about the film - you could follow the so called story easily - so so corny but great fun.
Early start in morning - the ballon ride - so nervous about it!
Diary Photos
---