Beyond My Comfort Zone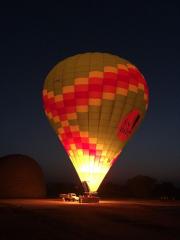 12th Oct 2017
Be Brave - just go for it!
Did not have a great nights sleep, may have had something to do with the fact that early tomorrow morning I am going to climb into a wicker basket attached to some cloth that is filled with hot air go hundreds of feet into the air whilst naked flames continue to fill this envelope of fabric with hot air to prevent said basket crashing to the ground with a high probability of me dying!!
Anyway the instructions were to met in reception at 4.45 where a car would pick us up and take us to the launch site. There were five of us in the end so I was not alone in this madness. The journey took about 45 minutes, everyone dozed of while I stared out of the window thinking 'what the hell am I doing?'.
When we arrived it was still dusk, we had a drink and snacks - well a biscuit! Paid our money and was told we were in ballon one - not sure if that's a good thing or not. It was a beautiful sight watching the ballon slowly fill with hot air. We were getting very close to the point of no return, my heart was racing and to be quite honest I was feeling quite sick - glad I was with someone who had done this many times before and was very reassuring it was going to be a great experience.
Time to climb into the basket- there were 3 of us in our section so had lots of space. Our pilot was superb, he gave us the landing briefing basically when he shouts landing position you have your back to the landing site, bend your knees, lean back and hold on to the loops on the side of the basket - oh and we may bump along a few times!!!
Ready for lift off, about 8 local lads were stopping the balloon from moving off the ground, on the pilots command they all let go and off we went. I was so surprised how gently we climbed. To start with we kept quite low to go over a small village. It was amazing everyone was coming out of their smallholdings, kids and adults waving.
It was delightful to get a different prospective of India- so far I have only seen hustle, bustle and noise. It's was so peaceful, the sounds of the village rose up. - dogs barking, kids laughing and talking. The area is a far cry from wha I have seen so far, no rubbish in sight, the small holdings were well tendered and people seemed happy.
Dawn was breaking, we rose higher and the sun was peeping over the ridge, what a sight - so beautiful- watched the sun come up feeling so privileged. The area was bathed in this amazing light and another day has begun.
We were up in the air for about an hour, then the command came 'landing positions' and we were down OK we bounced a few times but it was nothing. My first thought was 'again I want to do it again'. I am sure there is the opportunity to do a ride over the desert in Dubai so will try and get that organised.
Once we had landed, in a farmers corn field the village people came to greet us. It was brilliant- AND I got a certificate. Feeling so proud I faced the fear and did it.
Diary Photos
---