Beyond My Comfort Zone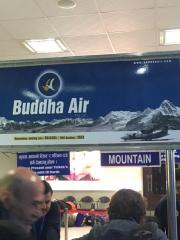 27th Oct 2017
Sat at the Airport!!
Final Day in Kathmandu
After the high of my flight first thing this morning, the rest of the day was spent coming back down again.
Met with a few of the others that were still around for some breakfast, went to a great little place and have a very pleasant hour reminiscing about the trip and talking about our various ongoing travel plans. I am the only one going to Dubai.
Then it was back to the hotel, get packed and checked out. Then went for a stroll around town - again kept in a straight line (as best as possible) was trying to make my way to ............... - came to a closed road but they were letting pedestrians through - the road was a bed of tar - I carried on walking until the path ran out then gave up. Picked up some lovely scarves, then went back to the hotel.
Spent the next couple of hours having a bite to eat and a beer.
Transport all arranged for 4pm. Five past, then 10 past - nothing - went to reception and they said wait until quarter past - nothing appeared - was just starting to get a bit concerned - reception then said nothing was booked for me. Luckily AJay was staying at the hotel and reception found him and he got it sorted - the hotel mini bus took me - there was such a queue at checkin it did not make any difference so slight panic over.
Got through immigration with no problems. What an awful airport - guess we are spoilt with Gatwick and Heathrow - one little shop, got a coffee - was looking forward to a nice glass of wine, not has a glass of wine for 3 weeks!!
There's rows of metal chairs to sit at while you wait to board. It's now 18.20 and my flight as been announced - can someone please explain to me as to why people queue up to get on a plane - there have to be at least 60 people stood in a queue - just waiting.............
Am due to get to Dubai around 22.20 - just under a five hour flight, when I get there I have to look out for someone in an orange t-shirt with a sign with my name on it!! Then it's a 25 mins drive to my hotel for the next few days.
Diary Photos
---