Beyond My Comfort Zone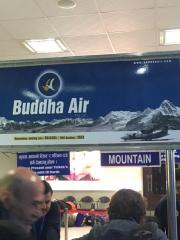 27th Oct 2017
Journey to Dubai
Arrive in Dubai in good time, four and half hours and as luck would have it I got a seat by the window and emergency exit so lots of leg room - some cheeky monkey had taken my seat but he soon got turfed out by the air steward!! He was not happy.......
I missed out on my glass of wine at Kathmandu so treated myself to a prosecco! I am not tired even though I got up at 5am. So took the opportunity to write a short piece on My Packing Advise - which I will post later.
The flight was pretty uneventful, it was amazing as we were coming into Dubai - the lights from the ground just showed what a huge area this has become. Once we disembarked I had to go through immigration - they seemed surprised I was travelling alone!! Then it was reclaim luggage and meet my transfer in the orange t-shirt.
This is where I confess!!! I could have sworn it said go to belt 3 - so off I went and the luggage was just staring to come round - I must admit I thought to myself - I can't remember all these people in burqa's but thought maybe they had put them on as we landed (!) I waited and waited and no sign of my bag - eventually everyone had picked up their luggage- I went to speak to someone explaining my bag had not come through - yes you've guessed my bag was slowly going around belt number 2 - all alone!! I felt so stupid ( so used to having a tour leader thinking for me!!!) then through customs to a couple of guys waiting for yes - no orange t-shirt but my name - they asked if everything was OK and why had it taken my so long to get through - I did tell a little white lie 'they lost my bag' !!!
The tour guide gave me an envelope- talked very fast and sent me on my way with the driver - not a clue what was happening or where I was going. The driver was a bit frosty - mind you I think I would be to impressed being kept waiting for so long. The journey to 'Old Town' took about 20 minutes- the building are so high and the roads just so smooth!!!
Got to my hotel and on check in had to make some sort of tax payment - luckily there was a cash point in the hotel. Finally got to my room - very nice. Started to read the info in the envelope and it appears my tour of the city and my desert adventure is tomorrow....... my trip notes from Intrepid say I have a free day tomorrow and my excursions are Sunday - not that's it's a problem - but good job I looked!! Am being picked up at 8.30!
I am all over the place with the time differences!!
Diary Photos
---