Beyond My Comfort Zone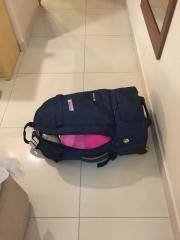 30th Oct 2017
Time To Go Home.
Up early for my final challenge- how to get my all my stuff back in my bag!! Even with throwing a few things away it was a real struggle.
Then picked up and taken to the airport, what a great airport, but then I guess you would not expect anything less. I did go to duty free - great, some real bargains so went to check out with 3 different bottles for gifts - 'are you sure you want all this madam?' - limit is 1 litre per person so it had to go back - so only one present sorted!!!
Had a wander around then went for a bite to eat before getting on board- had upgraded so had plenty of let room for my 7.5 hour flight - I did say yesterday that my room service meal was just like airline food - I must say the food onboard was really nice. Plenty of wine - basically really looked after. Great flight.
It did give me time to reflect on my time in Dubai. Everyone seemed to think that the Dubai stretch of my travels would be my favourite but you may be surprised to hear it wasn't. Don't get me wrong it's an amazing place, the architecture and innovation is beyond anything you can image but quite frankly its obscene, the wealth and the apparent obsession to be bigger and better than anywhere in the world is mind blowing. Maybe it's because I have travelled from countries that are so full of history and traditions that I find Dubai completely 'soul-less'. The people are very friendly and you do feel safe.
Saying all this, I would go back if and when I wanted a holiday laying in the sun, enjoying amazing 'theme' activities - I mean who wouldn't want to go to the top of the tallest building, ski in a shopping mall, have afternoon tea at the famous Burt Alm Arab hotel or spend the day at Aquaventure Waterpark. One-day I will return to do these things but for now I am pleased to leave.
As usual my transport home was waiting for me - the final part of my journey went quickly - and seeing the glowing blue 'Welcome To Bournemouth' sign filled me with joy - I have had the most amazing time but delighted to be home.
Diary Photos
30th Oct 2017 Final Challenge!!
No Description
---