Beyond My Comfort Zone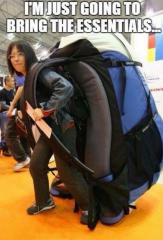 31st Oct 2017
Packing Advise from someone who really wants everything but the kitchen sink!!
Before I started on this adventure I did read quite a few different articles/ blogs to try and make sure I was as prepared as possible.
One of my major purchases was my rucksack come wheeled bag - it came with a detachable day pack. Worth every penny, I only had to convert it to a rucksack once and that was for my overnight train journey and to be honest I only did that because it's had been a nightmare trying to drag my bag through a packed station earlier on (I was running over everyone's feet!!) it was heavy and I would not have wanted to carry it too far, but having that option when needed is great. Was surprised how much I could pack into quite a small space. During my travels I became quite good at cramming everything in ( the almost daily challenge was sitting on the bag to get the zips done up)
Someone had also recommended these mesh packing cubes - brilliant idea - I had three and used them for my clothes, one for tops, one for bottoms and the other for odds and sods - it was great I knew exactly where everything was with regards to my clothes. I have always been the type of person who folds everything but again was recommend to roll - I am converted!! Think I got the clothing situation a bit wrong - yes you do need to cover up and be respectful especially when you are visiting religious locations but I think I took it a bit too far and when I return I would definitely not worry quite as much as I did before this trip. I took a couple of disposable ponchos- did not use them but again maybe I was lucky.
I did buy a peg-less washing line which was brilliant and some travel wash which was fine for the odd bit of washing but I did use the hotel laundry service whenever possible which was good and very inexpensive. I also brought a great fold up laundry bag - unfortunately I handed it in at one of the hotels, they returned my laundry beautifully washed and ironed and it was not until the next morning that I realised they still had my bag but we were leaving at 5 am so I had no chance of getting it back - will definitely get a replacement.
One of my major concerns was bed bugs!! I had read that they would be everywhere- major advise was to put my bag in the bath/shower to stop any getting into my belongings. Brought a bed bug mattress cover that goes under your sheet and these sticky pads you can put under the bed legs to stop the bugs climbing up. Never saw any signs of bugs and did not use the mattress cover or the pads ( in fact most of the beds did not have legs!!) so both items a waste of time, space and money - maybe in hostels there could be a problem or guesthouses but not sure.
I did buy a silk sleeping sheet ( a bit like a sleeping bag liner) and if I thought the bedding looked a bit less than desirable I would sleep in that - I brought a double so I did not feel trapped. Used it camping as well. This was a good buy and would definitely take with me again.
Travel towel, used it once but for the small amount of space it takes up would still take again.
A great buy was a battery operated mosquito repellent - it was really effective. Was concerned that I had forgotten additional batteries but they lasted just fine.
Took a couple of spray mosquito repellent - used one and a bit - you do find that when your out and about someone will ask if you have any so there was a bit of sharing going on. I did get quite a few nasty mosquito bites and I do get a bad reaction to them, did not take enough antihistamine tables with me so found I was rationing them which was not really helpful - lesson learnt!!
I took 50 individual coffee sachets with me - used them all - to be fair my travel mug it quite big and it needs at least 2 sachets if not 3. Thinking about it I should have put a couple of sachets in my essentials bag that I always put in my day pack (more about that later) I took a spoon and this was needs a couple of times. The cuppa soup was not needed!! I loved the food and will definitely need to go back to boot camp as soon as I get back home!!
Another major concern to me was becoming unwell especially with Delhi Belly - so made sure I had all the necessary medication to deal with this if it occurred. Maybe I was was lucky but I only had to take a couple of tablets and I was fine. Some people in the group did have a couple of days of being very unwell. I was a bit obsessed with the hand gel and antiseptic wipes!! To be fair most of the toilets were western - but then I would avoid the squat ones as much as possible. The ones I did use were pretty rank - packets of tissues are a must!! Did buy a 'she wee' never used it but would still recommend as you never know!!
I kept toiletries to a minimum - shower gel, sponge, shampoo, conditioner, a mini razor, compressed deodorant (2), and a small body lotion. Travel toothbrush and a small toothpaste (just about lasted the trip) Makeup - just the basics and then face cream and I could not go without my Moroccan oil for my hair! Sealable food bags are great just in case something leaks or get broken!
I took a pair of trainers and one pair of flip flops and that was it with regards to footwear - I wore my trainers once - hot air ballooning - good advise as you don't know where you are going to land! I would have worn them a couple of other times if I had been aware of what we were doing beforehand (Climbing over rocks to catch a fantastic sun set)and to be honest that is all you need. I would definitely get a good pair of flip flops as they take quite a battering.
I did have a small first aid kit, nothing major in it, headache tablets, antihistamine tablets (should have taken more) a few sachets of gaviston, rehydration powders, bite relief cream and the usual plasters and a bandage!
I had a few power adapters - one of which was given to me because the ones I brought at the airport in fact not useable in India but I could use them in Nepal.
I brought a money belt - great idea but only wore it for one day - it was uncomfortable and so hot!! I sort of used it as a bag to put my purse, glasses and phone in !! So it did get used but not in the way it was intended.
The lock to secure my bag was used, on the overnight train and a few time in my room if I felt it was needed. Also very useful in Dubai when I went to the beach - I could secure my belongings while I went for a swim. Padlocks are a must for your bags - in some of the hotel rooms the wardrobe had a bolt on it so you could put everything in the wardrobe and use your own lock to keep you belongings secure which was a great idea.
My daily essential kit consisted of - hand gel, packet of tissues, pack of cards, earphones, mosquito bite relief cream, mosquito spray, antihistamine tablets, a torch, cork screw/bottle opener (this proved to be helpful!!) pen, tooth brush & paste, luggage lock, headache tablets, and medication in case I got an upset stomach and always the business card from the hotel we were staying- just in case I got lost!!
I took a camera but to be honest the camera on mobiles is just as good these days - I did use it a couple of times and did take it with me on my day pack just in case my phone 'died' on me!! Plus once you get to know your fellow travellers you all share photos anyway.
I did miss a hairdryer- I think I will look into investing in one next time I travel! Also many of the group had mobile power packs for their phones - did not even know such a thing existed so will definitely get one of those, several times I ran out of battery and someone's power pack saved the day for me. The other thing I would take would be a small bag - I found I had to take my day pack out with me in the evenings which was not necessary.
Another thing that I found so helpful (thanks Di) was a little visual list that fits in your purse of the currency exchange - e.g. 50 Indian rupees was worth 0.63 and 1000 rupees is worth £12.50 etc etc - I know it's not 100% accurate but it gives you a good guide - I know there's an app on your phone but this is quicker to use - will definitely do this myself in the future (well I will get someone to do it for me!!)
I definitely packed lighter for this trip than I did for China five years ago but would really like to try and make it even lighter next time, you really can make do with the bare minimum but putting that into practice takes time and experience!!
Diary Photos
Diary Movies
---