lushblog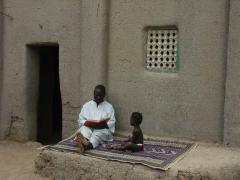 10th Sep 2010
EID MUBARAK!
I WAS GOING TO DO THIS IN GREEN, AS TODAY IS EID..BUT ALL THE GREENS ARE TOO LIGHT, SO HERE WE HAVE THE ISLAMIC COLOUR OF DEATH INSTEAD. NO, NOT BURN-KORAN DAY..THAT IS TOMORROW. STILL HERE IN EDINBURGH OUR MUSLIM COMMUNITY WERE OUT IN FORCE IN THEIR FINERY, AND I CANT TELL YOU HOW HAPPY THEY LOOKED..WELL, I CAN, ACTUALLY, AND I WILL. I HAD ACTUALLY FORGOTTEN IT WAS OFFICIALLY THE END OF RAMADAN UNTILL AROUND 7.35AM WHEN A FANTASTICALLY DRESSED UP, SPARKLY SHALWAR KAMEEZED WOMAN CAME IN AND BOUGHT 6 BOXES OF CAKES. AS IM SURE YOU CAN IMAGINE, THIS IS NOT A TYPICAL SALE FOR US AT THAT TIME OF THE MORNING..FILTHY, HUNGOVER WORKMEN BUYING BACON ROLLS AND THE LARGEST COFFEES AVAILABLE IS MORE OUR STYLE 5 MINS AFTER WE OPEN. HOWEVER...IT WENT ON AND ON...DOTING PARENTS BUYING CREAM CAKES FOR THEIR SONS AND A DRY ROLL FOR THEIR DAUGHTERS (IM KIDDING, IM KIDDING)..AND NOT EVEN ONE QUESTION ABOUT WHETHER THE APPLE TURNOVERS CONTAINED PORK GELATINE. BEING ABLE TO EAT DURING DAYLIGHT IS HAPPY NEWS RIGHT?.
AND THEN ON THE OTHER HAND WE HAVE THE HOLY FATHER TOURISTS HERE ALREADY...POLISH PARENTS WITH THEIR DISABLED SON WHO, QUITE OBVIOUSLY, WILL BE RUNNING AROUND PLAYING FOOTBALL AFTER A DISTANT GLIMPSE OF A SCAREY OLD GERMAN IN AN ARMOUR PLATED CAR TRAVELLING ALONG A STREET IN A FOREIGN CITY CROWDED WITH HALF A MILLION OTHER HOPEFULS. THE WHOLE OF THE CITY CENTRE IS CLOSED FROM 4.30AM ON THURSDAY MORNING..AND I MEAN THE WHOLE...FROM HAYMARKET ALL THE WAY UP TO BRUNSTFIELD, PRINCES STREET, GEORGE ST, QUEENST, NORTH AND SOUTH BRIDGE, THE HIGH STREET, THE COWGATE, THE GRASSMARKET..ALL OF IT, SO THAT THEY CAN GET DOGS TO SNIFF THE ENTIRE CITY BEFORE HIS HOLINESS DEIGNS TO DRIVE ALONG OUR HUMBLE ROADS. WE HAVE BEEN TOLD, THAT WHILE IT IS UP TO US, IT MIGHT BE AN IDEA TO BE IN WORK EARLY TO GET SANDWICHES AND BACON ROLLS READY, AS ALL THOSE PEOPLE WILL NEED SUSTINANCE FOR SITTING THERE FOR AT LEAST 5 HOURS TO SEE THE OLD GEEZER FOR APPROXIMATELY 2 SECONDS. AND OF COURSE ALL THESE PEOPLE WILL PROBABLY BE STAKING THEIR PITCHES ON PRINCES STREET AROUND 4AM, AS THEY HAVE TO GET BUSED INTO THE CENTRE BEFORE THE WHOLE PLACE CLOSES DOWN. WHAT A PALAVER! SO THE UPSHOT IS THAT I MIGHT BE IN WORK AT 5.30AM, THOUGH IM NOT SURE WHAT WILL HAPPEN WITH MY STAFF, WHO, THOUGH I HAVE TOLD THEM THAT THEY MUST LEAVE HOME EARLIER THAN NORMAL, BECAUSE OF THE STREET CLOSURES, STILL DO NOT REALLY BELIEVE THAT ITS A BIG DEAL. I TELL YOU, IF I WASNT FLYING TO THE INDIAN OCEAN ON THE SUNDAY AFTER, I WOULD BE TIRED JUST THINKING ABOUT IT..AS IT IS, I DONT REALLY MIND, I WILL OPEN AT 6.30 IF ITS WORTH IT, EVEN IF I DO HAVE TO SERVE IRISH NUNS, WHO I HAVE RECENTLY, BIGOTEDLY, COME TO HATE.
AND TALKING OF HATE, WHY IS IT THAT SOME BONKERS PASTOR, WITH A CONGREGATION OF 50, IN SOME ONE-HORSE TOWN THAT NO ONE HAS HEARD OF IS EVEN GETTING ALL THIS PRESS...WHO IS HIS AGENT? GOD, VICTORIA BECKAM, JORDAN AND ANYONE WHO APPEARS ON REALITY TV SHOWS WOULD DIE FOR SUCH COVERAGE. OBVIOUSLY HE WANTS PEOPLE TO 'KNOW THE TRUTH'! DONT KNOW ABOUT YOU, BUT NOTHING QUITE SAYS 'DISCOVER THE REAL STORY' TO ME, QUITE LIKE AN OLD-FASHIONED BOOK-BURNING! OF COURSE, WHAT WE SHOULD ALL DO INSTEAD IS BUY HIS OWN BOOK 'ISLAM IS DEVILS WORK'. UNLIKE BOOK-BURNING APPARENTLY!
AND ON A LIGHTER NOTE, IVE JUST HAD A CALL FROM GARETH WHO IS, AS WE SPEAK IN OSLO, WHERE A 125MM GLASS OF WINE (YES, I REALISE ITS HARD TO IMAGINE A DRINK THAT SMALL , ESPECIALLY FOR THOSE OF US WHOSE GLASSES RARELY HOLD LESS THAN 250CL!)..COSTS THE EQUIVALENT OF £7! SO WE ARE ACTUALLY SPEAKING OF SOMETHING THAT IS LESS THAN YOUR AVERAGE MOUTHFUL, AND ITS A WONDER THAT IT DOESNT EVAPORATE BEFORE YOU GET TO TASTE IT, AS JUST TASTE IS ALL YOU COULD DO. STRANGELY HE DIDNT MANAGE TO FIND THAT ELUSIVE FISH LIQUEUR...WHEN I WORKED IN ODDBINS WE SOLD CHERRY HEERING ( A DUTCH LIQUEUR FLAVOURED WITH , STRANGELY, CHERRIES). A NORWEGIAN CAME IN ONE DAY, SPIED IT ON THE SHELF, AND SAID (YOU'LL HAVE TO IMAGINE THE ACCENT)..'THAT THERE..IS THAT HERRING FLAVOURED?'...A QUESTION THAT ONLY A NORTHERN EUROPEAN COULD POSSIBLY HAVE ASKED..AND, IN TRUTH, HAD IT BEEN, I THINK HE WOULD HAVE BOUGHT IT!
AH..PEOPLE, DONCHA JUST LOVE EM?
Diary Photos
10th Sep 2010 Imam reciting the koran. djenne, mali.
---