ScouseLeeM on Tour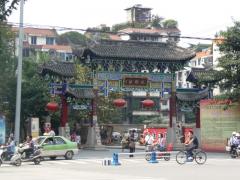 11th Sep 2010 - 12th Sep 2010
Chengdu
The final stop in China, here to see one of the great endangered species. No wonder they are endangered -big fat cuddly bears designed to be meat eaters, but who rather sit on their arse chomping bamboo, and have little or no interest in sex...
Still, they are cute - Chengdu's panda breeding research base is only haf an hour from the city, and allows the pandas to live in a wild state, with over 80 acres of hills, forest and bamboo groves to choose from. There is also a centre where infants are nurtured, we even saw 1 and 2 month old cubs in incubators. There were no guarantees of us seeing the pandas, but we were more than lucky. I've uploaded a small selection of the many shots I took, various adults and cubs in different states of activity.
A fitting finale to this tour, and think I will need to come back to nail Hong Kong and Tibet...for my final night, treated myself to a traditional 90 minutes Chinese foot masage, a deep soak in a wooden tub with medicinal salts, plus scalp and face massage. All yuan spent, time to get home for a full fry up...
Diary Photos
11th Sep 2010 Xi'an monastery
---
11th Sep 2010 Good to hear...
---
12th Sep 2010 Panda sanctuary
---
---
12th Sep 2010 Climbing panda
---
12th Sep 2010 Panda hunting...apple
---
12th Sep 2010 Standing panda
Standing panda
---
12th Sep 2010 Happiest panda in the world, ever!
---
12th Sep 2010 Scratching panda
---
12th Sep 2010 Inquisitive panda
---
12th Sep 2010 Falling panda - slippery log
---
12th Sep 2010 Baby pandas play
---
12th Sep 2010 Panda eating
---
12th Sep 2010 Striding panda
---
---
12th Sep 2010 Little baby panda
---
12th Sep 2010 Panda after a big night out
---
12th Sep 2010 Feeding time
---
12th Sep 2010 Sunbathing panda
---
12th Sep 2010 Panda in recovery mode
---