Next adventure Scandinavia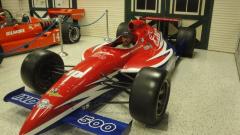 28th Sep 2010
Indianapolis Motor Speedway
Leider sind wir zum falschen Zeitpunkt im Indianapolis Motor Speedway. Aber wer weiss, vielleicht sind wir auch mal Ende Mai hier, wenn das Rennen auf der weltweit ältesten noch genutzten Rennstrecke gefahren wird. Reizen würde es uns schon, einmal das "Gentlemen, start your engines" und das Dröhnen der Motoren im 4-Km-Oval zu erleben. Einen Besuch war es trotzdem wert wegen dem Hall of Fame Museum, welches Rennsport-Freaks viel Interessantes zur 100-jährigen Geschichte von Indi 500 bietet. Einzigartig sind auch die über 75 Oldtimer bis zum Siegerwagen von 1911.
Diary Photos
28th Sep 2010 Indianapolis Hall of Fame Museum
Wo ist der verdammte Startknopf?
---
28th Sep 2010 Indianapolis Hall of Fame - Alfa Romeo 1948
Genau gleich alt wie ich, aber wesentlich antiquierter. Dafür steigt seine Attraktivität und sein Markwert im Gegensatz zu meiner kontinuierlich.
---
28th Sep 2010 Indianapolis Hall of Fame - Sieger 1911
---
28th Sep 2010 Indianapolis Hall of Fame Museum
---