Farrells Down Under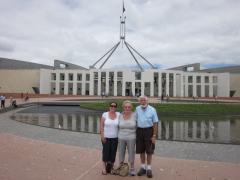 8th Jan 2011
CANBERRA, Australia
Mum & dad were keen to go to Canberra as it was a place they hadn't seen before so Chris suggested we go for a day trip on Saturday 8th. We left home at 6.30am & drove south to ACT - the Australian Capital Territory.
We were there just before 9.30pm & after stopping at the Tourist Information Centre we headed to Parliament House where we did a guided tour. Chris & I had done the tour before (August 2006) but we had forgotten most of what we had been told then so it was good to do it again!
We had difficulty finding somewhere to have lunch & ended up at the food court of a shopping centre. It wasn't great but everyopne was able to choose what they wanted. We popped in to 'Borders' while we were there to get a board game that mum & dad had been playing with Bill & Kay - it's called 'Sequence'!
Afterwards we headed to the national Museum of Australia. We hadn't been there before & we all really enjoyed it. Several of the exhibitions were really good.
Our final stop in Canberra was at the War Memorial. The guy in the Tourist Information had told us about a show that was on every hour so we got there just before 4pm to see the "Striking by Night" exhibition featuring the famous Lancaster Bomber "G for George". At 4.15pm we saw another exhibition - "Over the front: the Great war in the air" telling the story of military flight and aerial combat during the First World War using original aircraft and a sound-and-light show. We had a look at the Roll of Honour walls & tried to find the name of Dad's Uncle who was killed fighting for Australia in the First World War - unfortunately we didn't know what regiment he was in & as William Smith is a very common name we were unable to find his name! We stayed to hear the bugle player play "The Last Post" at 5pm.

The drive home was fine & we ended up going via North Strathfield as mum was really keen to go to "Outback". We had a nice meal there before heading home to relax for a while before bed.
Diary Photos
8th Jan 2011 Lou, Mum & Dad
Parliament House, Canberra
---
8th Jan 2011 Lou, Mum & Dad
Parliament House (towards the War Memorial)
---
8th Jan 2011 Chris, Lou, Mum & Dad
War Memorial, Canberra
---
8th Jan 2011 Chris & Lou
"Outback'
---