Next adventure Scandinavia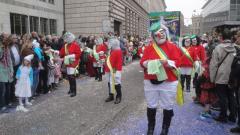 15th Mar 2011
Basler Fasnacht (Carnival of Basel)
The origins of Basel's Fasnacht are rather obscure, partly because of the terrible earthquake of 1356 which destroyed large parts of the city and many official archives.
The earliest records date back to Ash Wednesday in 1376, when a jousting tournament on the Münsterplatz was the scene of a row between citizens of Basel and some knights. The argument escalated into a blood bath and the local citizens chased off the noblemen, killing four of them in the process. Retribution was harsh: 12 citizens were beheaded and Emperor Charles IV placed a ban on the city, which meant the city was no longer afforded the protection of the Holy Roman Empire. This fateful day went down in the annals of Basel's history as the "Böse Fasnacht" and is the oldest record of Fasnacht activities.

It took many centuries for Fasnacht to develop into the festival we are familiar with today. Here are a few milestones showing how the event has developed through the centuries:

1529 It was agreed that Fasnacht should take place between the Monday and the Wednesday following Ash Wednesday.

1529 Oldest historical document describing the trading and selling of masks and disguises ("Fasnachtsantlit") by painters and shopkeepers.

1712 Drum concert held on Petersplatz with 70 drummers taking part.

1715 The city council imposed a ban on the "highly perilous custom" of wearing masks, on penalty of "corporate punishment or death".

1798 Ban imposed on processions and drumming.

1802 The first "orderly" procession is organised.

1808 Custom of "Morgenstreich" introduced, starting 5 a.m.

1832 First mention of Schnitzel songs (Schnitzelbänken), carrying on the tradition of the satirical and sardonic street ballads of the 16th century.

1835 Morgenstreich brought forward to 4 a.m. and huge Fasnacht procession by the "Quodlibet" society.

1845 Naked torches banned as a fire precaution. Handheld lanterns used instead.

1860 A giant lantern carried on the Morgenstreich for the first time.

1910 On March 21st 1910 the Basel Tourist Office decides, in collaboration with the carnival societies "Quodlibet" (from Grossbasel) and "Wurzengraber" (from Kleinbasel), to create a neutral committee. From carnival 1911 on this "Fasnachts-Comité" acts as the official organisation committee and contact point for all questions concerning Basel Fasnacht.
Diary Photos
15th Mar 2011 Basler Fasnacht
---
15th Mar 2011 Basler Fasnacht
---
15th Mar 2011 Basler Fasnacht
---
15th Mar 2011 Basler Fasnacht
---
15th Mar 2011 Basler Fasnacht
Diary Movies
---