ScouseLeeM on Tour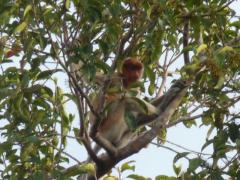 24th Apr 2011 - 27th Apr 2011
Borneo - Pangkalan Bun, Camp Leakey
Taking a short flight from Jakarta via Banjarmasin, landed in the town of Pangkalan Bun, Borneo, with the explicit of agenda of seeing Orangutans in the wild...
Rather than taking a beach holiday , chose Pangkalan Bun as it offers the chance to live and sleep on a traditional wooden 'klotok' boat. This proved a wise choice, and one I would recommend to anyone else thinking of heading to Borneo.
Spent 3 days chugging along the river at a sedate pace, having all meals prepared by the crew, and spending a little time sunbathing on the upper deck, while being peppered with highly aggressive mosquito bites. Met some American travellers that made me very jealous - they've been to 27 countries in the last 10 months, and are still going now - with their 11 year old twins in tow, oh to win the lottery...
Stopped at various rehabilitation centres along the river, where the OR's were last released into the wild back in the early 1990s. They still come back into the camps to top up their natural diet, as do their chidren and grand children. Camp Leakey is the most famous centre, and here we were treated to several hours of activity, with 20-30 apes of various ages - males, females, babies, & juveniles. This included us having to run away from a known troublemaker, who frequently steals tourists belongings and followed us at pace for several kilometres during one of our walks. The same ape also took a dislike to a wild pig that stumbled into camp and started eating the food - he took off into the forest to find the largest stick he could, came back and belted the living sh** out of the pig over the head - cue much squealing and some very fasy moving bacon through the trees.
We were also extremely lucky to meet a dominant male at one of the camps, as they are normally defending their territories. He entertained us for a good 30 minutes posing and posturing for the assembled tourists, also becoming quite agitated when the provided bowl of milk ran out - what followed resembled a scene from Benny Hill, as we all ran single file through teh trees to get away from him, while he followed with rather keen intent..until one of the rangers placed a new bowl at the feeding station, he then placidly went back to stuff his face.
In addition to the camps we visited, we were also lucky enough to see a host of truly wild OGs on the other side of the river - who have never been in the rehabilitation centres, and are not decended from any of those apes. Predicatably, they were less happy to see us and made that fact very clear, sounding loud warning noises to communicate their displeasure. We also met up with many troops of Probiscis monkeys, macaques, and a very flamboyant gibbon that almost seemed to pose for photos on the river bank. Ended up with several hundred OG photos, just uploaded a few here as a taster.
This was a sensational journey, and I would have wanted to stay longer it it wasn't for those bloody mosquitoes - my back, legs and backside were looking like a lunar landscape...headed to Bali for a much needed day of recovery by the pool, air conditioned room with king size bed, and a Balinese massage, before continuing the adventures in Rica and Komodo...
Diary Photos
---
---
---
---
---
---
---
---
---
---
---
---
---
---
---
25th Apr 2011 Funky Gibbon
---
---
---
---
---
---
---
---
---