Saltwhistle III: Rach & Tony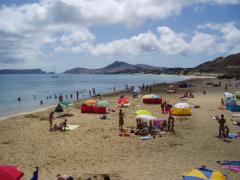 16th Aug 2011
Porto Santo
We had a great sail down from Portugal to Porto Santo, Madeira. 450 miles knocked off in 68 hours, averaging 6.6kts which is pretty respectable speed for 14 tons of boat. We felt like this was our first true ocean passage. The forecast had been for 15-20kts of wind speed with 2m swells . Needless to say we were getting 18-25kts (gusting 30) with 3m swells and the occasional 4m thrown in for good measure. Luckily the strongest winds and steepest seas were at the start rather than the end, which is always good when you have been doing 3hr watch rotations over three days and nights. On the whole the boat performed very well and we are convinced of her sea-going capabilities with quartering/following seas, but it is not very pleasant when the gusts turn you up to the wind and you take a swell broadside!

In terms of wild-life we had plenty of dolphins on the first day, Tony also saw an 18" turtle swimming on the surface. There are no more lobster pots to avoid as the water is too deep now, and consequently no fishing boats either, but we did get a lot of shipping coming up around South Africa for the Med or Rotterdam, and also a lot of boats heading across to New Orleans and Rio. The weather stayed fair until our approach to Porto Santo when great black water-laden clouds rolled across the skies. We slowed to boat to let two systems envelop the island before heading into port. The arrangement here is a large port with concrete plant and a wharf for the daily ferry from Madeira , with a marina tucked up in the corner and mooring buoys laid in the middle. We are on a mooring buoy which is nice because we get the cooling breeze rather than ambient heat in the marina. Plus, the water is crystal clear and we can swim off the back when we get too hot from doing jobs around the boat.

The port abuts a 6 mile beach of golden sand than runs around to the main town. The reason a ferry comes daily from Madeira is that this beach is pretty much the only one in the island chain, so many Madeirans keep holiday homes or beach huts here. Naturally we arrived for fiesta to celebrate our Lady of the Whatever, who no doubt was very chaste. There was some ceremony at a church up in the hills but most chose to celebrate yesterday's religious holidays with riotous eating and drinking. Perhaps I shouldn't use the 'r' word given what has been going on in London last week. I get the daily Times and Sunday Times on my Kindle and it seems simply incredible the news we have been reading. It is a world away from this.

The main town here is very pleasant and geared up for the tourism it attracts. It's about a half hour along the beach from the marina, which is very pleasant with shoes off walking through the surf. Strangely though the local officials must have been expecting a big increase in activity around the harbour because they have permissioned an attractive modern development at the opposite end from town that includes a nightclub that goes on every night until 8am. I've taken to sleeping with the windows open (no mozzies off shore!) and wake intermittently to music of all styles playing back to back with very little concern to coherence. They haven't discovered base beat here yet so it's really rather pleasant hearing the music floating over the harbour. A bit weird though.

We'll spend a few more days here before heading over to Madeira Grande where we meet up with Mike, our potential crew with his partner for crossing the Atlantic. Mike will be with us for a week checking the boat over, testing equipment and hopefully getting some sailing in either around the island or to some of the off-lying desolate rocks. After that we are down to Lanzarote where Tony's mum Margaret joins us for a week.

Oh, and four weeks to the World Cup – bring it on!
Diary Photos
16th Aug 2011 Porto Santo
---
16th Aug 2011 Porto Santo town
---