ScouseLeeM on Tour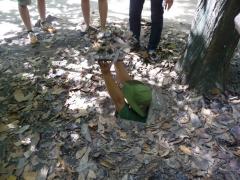 21st Aug 2011 - 27th Aug 2011




Cambodia - Siem Reap/Angkor Wat



Making the most of my work in Ho Chi Minh, I decided to take the short hop over the border to Cambodia, and strike another of the '7 wonders' off my list (Angkor Wat)..must be at least the 10th of the 7 wonders I've been to, depending which list you use...I found a great agency that did everything for me - a tourist bus from HCMC all the way to Siem Reap, hotel, tours, all meals, and a flight back to HCMC, for a very reasonable price.

Met some interesting characters on the bus to Cambodia, including various backpackers that have given up their lives back home, sold their houses, and taken off around the world - jealous!I highly recommend the bus route, as it gave us a good look at the real Cambodia - at the same time very glad I paid the premium to fly back later - 14 hours by bus v 1 hour flight is quite a difference. As we passed through the border, we first hit a mini Las Vegas style area, full of mock Vegas casinos (including a 'Win' instead of the 'Wynn'..).

Apparrently gambling is illegal in Vietnam, so they cross the border to do it here, and the casinos hold many of the farmers land registration documents as credit, slightly worrying. We spent some time passing through the floating village areas - houses built on stilts in large lakes, and witnessing local villagers and animals working their fields.

Stopping in Phnom Penh for lunch, there was no time to visit the national Genocide musem (possibly a good thing), before continuing to Siem Reap, arriving late at night for a good night of kip, before a full day at Angkor Wat.

Next morning we headed out in a small monsoon to Angkor, which lasted all morning. As such, we were dressed like tellytubbies in bright yellow plastic macs. We spent the moring visiting the South Gate area of Angkor Thom - Bayon, Phimeanakas, the terrace of the elephants, and terrace of the Leper King.

This was an impressive start to proceedings, but nothing compared to the main event that afternoon, at Angkor Wat itself. Before Angkor Wat, we headed to Ta Prohm, the setting for some of the 'Tomb Raider' movie - no Angelina Jolie here, but a mightily impressive temple that is overgrown with huge trees, the 2 blending together in eerie fashion. Great photo opportunities...

Angkor Wat is the largest religious monument in the world, and the scale is hard to describe or justify in photos. Entering the complex is a little similar to the Taj Mahal, but on a much biger scale. Probably the most impressive view while walking through the area was that by the small lake, which offers a full reflection of the central temple - this also takes you to the area where you will be harrased to buy t shirts, ash trays and general tatt. I managed to get away lightly with a can of coke for around 30p.

After climbing the central, tallest tower, for a view of the entire complex, we headed back to Siem Reap for an all you can eat feast and traditional Aspara dance show - after 10 days of noodles and rice is was nice to add a plate of good old fashioned chips.

Before flying back to HCMC, spent a morning mooching around Siem Reap, and took advantage of a 30 minute traditional foot & leg massage for the princely sum of 3 US dollars, worth going just for that! Shame I didn't have time for the 60 minutes 4 hands full body massge at 10 bucks...



Diary Photos
21st Aug 2011 Disappearing down the Cu Chi tunnels
---
21st Aug 2011 Vietam ' Hero American Killers
---
---
21st Aug 2011 Captured US bounty
---
---
---
21st Aug 2011 Rambo - M6 Machine Gun
---
21st Aug 2011 Weapons of mass destruction
---
26th Aug 2011 South Gate approach
---
---
26th Aug 2011 South Gate interior
---
26th Aug 2011 Angkor transport
---
---
---
---
26th Aug 2011 Angkor Buddah
---
---
---
26th Aug 2011 Ta Phom temple, angkor
---
26th Aug 2011 Overgrown temple
---
26th Aug 2011 Spot the ancient sculpture
---
26th Aug 2011 Tomb Raider
---
---
26th Aug 2011 Approaching Angkor Wat
---
---
---
26th Aug 2011 Angkor Wat entrance
---
26th Aug 2011 Angkor Wat entrance
---
26th Aug 2011 Angkor Wat - outer building
---
26th Aug 2011 Angkor - reflection shot 1
---
26th Aug 2011 Angkor Wat reflection shot 2
---
---
---
---
26th Aug 2011 Dinner show Siem Reap
---
26th Aug 2011 Dinner Show Siem Reap
---
---