Linda and Seamus USA Trip2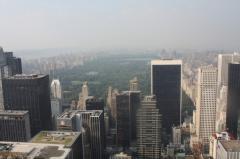 20th Jul 2011 - 22nd Jul 2011
New York
We made an early start from Pocahontas State Park and drove Harvey to Cheek and Shockley where he was put into storage. Our taxi arrived on time and we were taken to Richmond train station. We had a couple of hours to spare but it was much nicer to have time on our hands than have to rush until the ticket office announced that our train was delayed for two hours! There was nothing we could do but sit it out. It got hotter and hotter and hotter and eventually we succumbed to sharing an ice-cold MacDonalds Milkshake. The wait was well worth it.....
The train journey from Richmond to New York was fantastic. We had a comfortable seat, excellent in taste and value for money fresh coffee and wonderful views from the train. We thoroughly enjoyed the six-hour journey which passed very quickly. We arrived in New York at around 7pm and managed to find the over ground train to take us to Jamaica Hub where we picked up the air train to JFK. From there we took the hotel shuttle and finally arrived at our hotel at 9.30pm, by which time we were rather hungry. So, we rang for a pizza and just about managed to stay awake until it arrived.
The next day we were up at 5.30am, took a quick shower and had breakfast at 6am, then it was on the shuttle and off to JFK where we took the airtrain to Jamaica. Here we learned that we could take the subway to the city and one train stopped exactly where we needed to be. It was a slow journey as it stopped at every station but once we managed to secure a seat it was interesting watching all the New Yorkers going about their daily routine. We had to collect our tour tickets at Madam Tausaud's and we were surprised to see a long queue. We soon discovered why. Their computerised ticketing programme had broken down and they were unable to issue any tickets. We were delayed for just over an hour and a quarter which was frustrating but once it was sorted out and we were on the tours it was excellent.
We started off with a Downtown tour which took us passed the Empire State Building and Wall Street to mentioned but a couple of landmarks and then we took the ferry around the Statue of Liberty. After that we went to the Top of the Rock where we admired New York from up high. It was a shame that it was a very hazy day (the worst they had seen in 20years!!) but nevertheless the views were amazing. Then it was time for the Uptown tour which took us passed Yoko Ono's appartment and Central Park. Having just eaten the remains of our pizza (left over from the night before) during the day, we were getting peckish and so we grabbed a quick bite before embarking on the Night tour which took us to Brooklyn and the Bronx. We finally got back to our hotel room at 11pm exhausted but elated at having had such a wonderful day.
On Friday we spent our time chilling out in the hotel before leaving for JFK. Our flight was on time and we had a very comfortable journey back to the UK where Nicky and Tim were waiting for us.
What a fabulous trip we have had. We have seen so much in terms of scenery and wildlife. We can't wait for the second leg.
Diary Photos
21st Jul 2011 A view of Central Park from the Top of the Rock
Just one of the panoramic views that we enjoyed
---