Jo goes wandering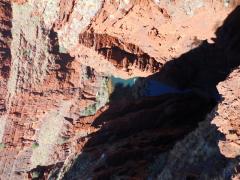 3rd Sep 2011 - 22nd Sep 2011
Only the awesome stuff
A summary of the awesome things that have occurred over the last 2wks.
Arrived in Exmouth camped opposite the beach, spent the evening drinking wine on the beach and watching the humpback whales form the shore.
Camped in the national park for a few days right on the most gorgeous beaches with turquiose water, white sand and no people
Daily routine for about a week consisted of get up, go to beach, go snorkelling and see cool fish, sit on beach, camp by beach. Repeat.
Saw loads of wild emus, love them they are very entertaining.
Spent a week including shells birthday hanging out in coral bay on the ningaloo reef. Spent the week at the beach, having bbqs, snorkelling and hanging at the beach. Also met up with some 3 different groups of friends we had met along the way. Big pub party on shells birthday.
Boat cruise on the Reef, best ever. Snorkelled at loads of different sites on the reef. Snorkelled with the manta rays which were about 4m across. Saw turtles, a dugong and a mother and calf humpback whale which spent about 15mins entertaining us by jumping out the water. Topped off by snorkelling with 5ft long reef sharks, vry scary but very cool.
Been to more national parks, hiked in more gorges, and saw the pinnacles which are weird rocky humps in the desert.
Had loads of campfires
All in all its been the best couple of weeks. The last few days as we have got towards perth we defiantly noticed a change in temperature. Its a bit cold for my liking, definitely a bit cold for camping. Lucky for us once we hit perth we get to move into our new house for 5wks. Hoping to sit on the sofa and watch tv and cook loads and loads of food in my own kitchen. Yes.
Diary Photos
---