Dora The Explorer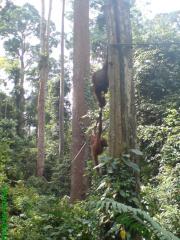 5th Nov 2006
Sepilok Orangutan Re-habilitation Sanctuary
So this morning was an early one- we were up at 5.30 to catch a flight over to Sandakan on the east coast of Borneo to visit the Orangutan Sanctuary. It was worth it- wow 'the wild man of Borneo' is certainly well worth a visit. Its so pleasing to see how the Malaysian government in collaboration with a London based charity are really pushing the conversation and re-habilitation of this species.
We visited the re-habilitation section of the sanctuary where many babies had been orphaned, thier mothers killed ( they cannot surivive without them in the first few years) and kept captive by many of the local villagers. Its now a serious crime over here if reported and caught by the authorities- a lengthy prison sentence can be imposed. This seems to be working.
The feeding platforms were way into the rainforest- and there was guarantee that we would have seen any- but luckily for us they must have been starving ( breakfast feed at 10.00am) so we were treated to about 7 different characters. It was absolutely sweltering- I've not experienced heat and humidity like it. Gutted however as I thought I had taken some great video footage of the big male swinging around and knocking the babies off the platform ( he picked them back up) however looks like I still havent managed to get to grips with my camera yet.
Diary Photos
---