Dora The Explorer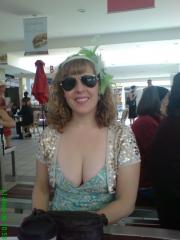 10th Nov 2006




At the races- Melbourne Cup Arab Emirates Day



To bolster our spirits the guys had organised for us to go to the last day of the races - or the Arab Emirates day. The day before was spent making picnics, cutting sushi ( its huge out here everybody eats it), visiting the deli and devising ways of getting alcohol through the gates.. After much discussion at the bar the night before we emptied ' mini brekkie juice bottles' halfway and topped them up with vodka.

We scounged a cool bag from the hostel and found some cheap fascinators for our hair from Target ( think Primark) and we were set to go. The day was great and I would recommend anyone to go. We all made bets and MAGNUS (see pics) came up trumps for me and made me twenty bucks.

We thought this highly amusing ( Dave did architecture with him) and we proceeded to spend the afternoon relishing old Magnus stories. Suffice to say the rest of the pictures de-generate as the evening goes on..but we lasted till midnight which was a stirling effort all around.



Diary Photos
---