Dora The Explorer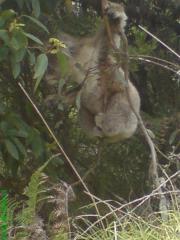 19th Nov 2006




Phillip Island Penguins!!



Located 125km south-east of Melbourne about a 2 hr drive.
'
The highest point on the island is Cape Woolamai, in the south-eastern corner, reaching 118m in height. The protected northern beaches nestle into Westernport Bay providing safe swimming areas.

Cowes is the largest residential township on the Island, with a good range of shops, restaurants and services. Other popular townships include Rhyll and Newhaven.

Things to see & do


Enjoy the great surf on the southern coastline

Visit the Australia's largest timber maze

Watch the amazing Penguin parade each night

Enjoy a helicopter ride around the island with Phillip Island Helicopters.

anway more interestingly the penguins are great - basically you get to the beach and up on decking are viewing platforms where the public sit. Come half 8 in the evening hundreds of tiny penguins coming scuttling out of the water and begin the journey back to their nests! Its hilarious!! They are teeny weeny no more than 55 cm high and keep falling over. I so wanted to take pictures but like any eco-tourism trip we were banned from doing so. I recommend it though!


Oh and the Hurdy Gurdy Vineyard we went to en-route to pick up a penguins. the wine was fantastico.. the italian couple on our trip were mad for it and were half cut by the time we left.



Diary Photos
---