Next adventure Scandinavia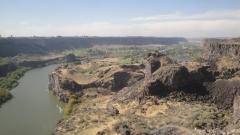 16th Oct 2011




Boise - Twin Falls - Heyburn ID



Wir fahren zügig weiter, weil es auf unserem Weg nach Arizona in Utah noch auf über 2'000 Meter geht und wir nicht vom Winter beziehungsweise plötzlichen Schneefällen überrascht werden möchten. Bei Twin Falls verlassen wir den Highway kurz und machen einen sehr lohnenswerten Abstecher zum Snake River Canyon und den Shoshone Falls. Der Wasserfall wird auch "Niagara of the West" genannt. Die Wassermenge entspricht zwar bei weitem nicht derjenigen der Niagara Falls, dafür ist der Fall 14 Meter höher.



Diary Photos
16th Oct 2011 Snake River bei Twin Falls ID
---
16th Oct 2011 Snake River bei Twin Falls ID
---
16th Oct 2011 Shoshone Falls
---
16th Oct 2011 Shoshone Falls
---
16th Oct 2011 Shoshone Falls
---