Hedy + Peter back on the road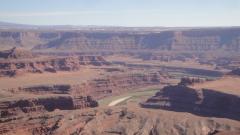 21st Oct 2011




Dead Horse Point State Park und Canyonlands-Nationalpark



Nicht weit von Moab befinden sich mit dem Dead Horse Point State Park und dem Canyonlands Nationalpark zwei weitere besuchenswerte Hotspots. Aus 1'730 m Höhe entzückt uns die Aussicht auf den 600 m tiefer gelegenen Colorado River, welcher hier eine 180°-Kehre macht. Der Name Dead Horse Point ist auf die Nutzung durch Cowboys und Pferdediebe im 19. Jahrhundert zurückzuführen. Weil das Hochplateau mit der restlichen Hochebene an seiner engsten Stelle nur 27 Meter breit ist, wurden die Mustangs hier zusammengetrieben und auf einfache Weise der Fluchtweg versperrt. Die nicht für die Zucht geeigneten Pferde wurden zurückgelassen und verhungerten oder verdursteten.
Im Canyonlands-Nationalpark haben der Colorado und der Green River tiefe Einschnitte in das Colorado-Plateau geschnitten. Die Rundfahrt auf der "Island in the Sky"-Hochebene bietet viele spektakuläre Aussichten auf die tiefer gelegenen White Rim und die Flussläufe.



Diary Photos
21st Oct 2011 Dead Horse Point State Park
---
21st Oct 2011 Dead Horse Point
---
21st Oct 2011 Dead Horse Point
---
21st Oct 2011 Dead Horse Point State Park
---
21st Oct 2011 Canyonlands Nationalpark
---
21st Oct 2011 Canyonlands Nationalpark
---
21st Oct 2011 Canyonlands Nationalpark
---
21st Oct 2011 Vor Dead Horse Point State Park
---