Dora The Explorer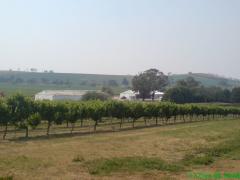 17th Dec 2006




Yarra Valley Wine Tour



Would recommend this to anyone! It was great fun, albeit the extremely bad hangover that followed last night after the sobering up on the way home.
So I managed to cajole a friend from work Patrick to come with me, his folks own grape and olive vinyards in Swan Hill ( about 4 hours outside Melbourne) and he was none the wiser re wine tasting....and myself I figured I've spent half my life drinking it it was high time I became a cnssr ( monsieur with these ferreo rocher you are spzoiling us).

We had our first tasting session at half 11 and I was well on my way then, lunch was a superb winery where Chris Isaac played at last week- great venue. After luncheon and more wine we were taken to Yering Wine Station .....

source www.visitmelbourne
Yering Station was originally established in 1838 as Victoria's first vineyard and today, this family owned Winery Tourism Complex is reaching new heights.

Beyond the manicured gardens lies the contemporary stone edifice, which houses the Wine Bar Restaurant and the winemaking facilities, seen through the viewing platforms. The restaurant's cuisine is modern with the emphasis on regional produce. The seasonal menu is designed to compliment Yering Station wines.

The converted old winery building, comprises a Produce Store show casing local produce, a dynamic Art Gallery raising money for the Royal children's hospital, Matt's Bar the perfect place to enjoy a casual glass of wine with a gourmet snack and the Cellar Door. This is where you can taste our full range of the estate's award-winning wines, Barak's Bridge, Yering Station and Yarra Edge, along with the critically acclaimed traditional method, Yarrabank.

Anway 4 hours later and copious amounts of red wine, bubbles and a cheese board I staggered onto the minibus and fell asleep on the way back. I was fairly trollied to say the least and my head was banging... I hate that as the golden rule with Leo Sayers is that you push on through. I didnt and paid the price.

I am back in the Urban Central hostel after deciding to give the guys their flat back- Guys your've been really kind and polite! Thanks for your hospitality and use of sofa, fridge mattress etc!! You can get the bunting out now and have a street party as the house belongs to you guys again! Its nice to have a bed after a month where I've developed a nasty cough worthy of 20 woodbines a day habit.

Am here for the week then off to stay with Andrea Stanley ( mate from London) who's coming home for a few weeks.



Diary Photos
---