Linda and Seamus USA Trip2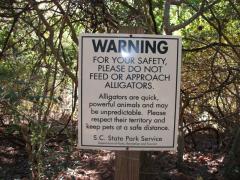 30th Oct 2011 - 6th Nov 2011
Huntington Beach
On Monday morning we went to Camping World and purchased our new hose and then we noticed a sign that was advertising oil and filter changes at a very reasonable price. As we were within a couple of hundred miles of being due for a service we thought that it would be a good idea to get it done there and then if possible. We enquired and they were able to fit us in just after lunch and so we wandered around the shops for a couple of hours until Harvey was ready. We then headed off to Huntington Beach and as we drove down the causeway to the site we knew that we were going to love it there – so much so that we broke our golden rule of only booking in for two nights and booked in for a week. They had fresh water lagoons and salt marshes and a beach – what more could you want.

Tuesday was spent exploring on our bikes. We went to the Education Centre and spent quite a while looking at the various exhibits and then watched a ray and a horseshoe crab being fed and chatted to the very knowledgeable ranger. The ray was really cute and he flapped his fin out of the water on the side of the tank which was his way of asking for more food. The ranger told us that we would be most likely to see some interesting species in the fresh water lagoon which was readily accessible and so we decided that we would explore it in the afternoon. We walked out on the salt water marsh boardwalks and admired the views and then we thought that we would head back for lunch so that we could deposit the bikes and take an afternoon walk along the causeway and round to the fresh water lagoon. We were not disappointed. We were lucky enough to spot an American Bittern which was a first for us and as we looked around the lagoon we could see several alligators sunbathing. It was a lovely spot to see the birds and alligators from as we were concealed from their view but we could see through the reeds and bushes. When we walked back we decided to walk along the beach to our site and head back out to the causeway to see if we could see the wood storks which had been visible when we entered the campsite. Again we were not disappointed because although they were a long way off they all took flight and flew right over us. The many great blue herons, white egrets, snowy egrets and various waders were not a bit concerned about being watched and we thoroughly enjoyed seeing them catch their supper. We also got chatting to a man and his wife who spent their time photographing the wildlife at the park. We had actually seen their work in a book in the Education Centre and they had some fantastic shots.

On Wednesday we walked a very similar path to the day before but in reverse. It always looks so different when you do that. In the afternoon we walked the beach which is a favourite for both of us. There were no new spots but it was all very pleasant.

We walked the beach on Thursday and went up to a jetty at Murrells Inlet where we saw a poor sailor whose yacht had been anchored in the inlet and had hit the rocks and started to sink. The poor man had salvaged as many of his possessions as he could and these were strewn across the jetty. On talking to a ranger who had visited him whilst we were in the area we discovered that the man had been there for a week whilst they got permission to move him from the coast guard. It was a sorry sight and we really felt for him. We walked back inland along the jetty and Linda mentioned that the rocks along the side looked just like the place we had seen a kingfisher when we were visiting Julie and Ron in Oman. Lo and behold, whilst looking through the binoculars Linda spotted the Belted Kingfisher sitting on the rocks! We walked along a track alongside a marshy area and it was beautiful. It was very hot as we were in a sun trap. We knew that we were back in beach scrub land because we encountered our friends – the burrs. Boy are they painful when they stick in you and even when you see them and want to remove them you know it is going to stab you no matter how carefully you try to remove them. We re-joined the beach and wandered back to Harvey. It was a day of migration as we saw flock after flock heading south. As rain was forecast for Friday we decided to make the most of the beautiful weather and so we went out on our bikes in the afternoon. We cycled round to see the alligators and whilst we were there talking to two ladies Linda looked down at an irritation on her leg and was aghast to see no less than four mosquitoes feeding on her. We had completely forgotten that they would have hatched in the warm weather and they were certainly getting a good meal from us. One of the ladies immediately reached into her bag and pulled out some bug spray for me to use – the kindness here never ceases to warm us. We cycled back down the causeway and then went down a road that ran through the middle of the park to the north end of the beach and back again. We certainly got two days' exercise in a day!!
On Friday it had the audacity to rain and the temperature had dropped to around 60 degrees. We decided that we would have a day of chores and then go into Murrells Inlet to get a few provisions and hopefully a good enough signal to skype family. We also thought we would have a chinese as we spotted one when we arrived. It was all very nice and relaxed.
Saturday was a breezy but sunny day and so we decided to do the beach walk again - it was bracing but thoroughly enjoyable. We walked up to the inlet and saw that the sinking boat had become completely submerged except for the mast and his belongings were still all over the walkway. We felt so very sorry for him. In the evening we heard the Great Horned Owl way off in the distance - we just love to hear them calling.
On Sunday we rode the bikes and did about nine miles in all. We initially rode up to the causeway and met a couple from Canada, Neil and Helena and chatted with them about the RV lifestyle. During the conversation we discovered that Helena is, in fact, British and had lived in Canada for many years. We learned from them that campers had been escorted in convoy off the Skyline Drive because of snow - what a good job that we moved when we did. Also during our conversation, we were invited to Toronto for dinner if we were passing - we might just do that one day! This trip is, for us, as much about the people that we meet on our journey as the scenery and wildlife - it is brilliant. We went to say goodbye to the alligators and whilst we were there we spotted a black crowned heron. After that we headed off to Murrells Inlet on the bike path and then back again - it was a lovely ride through the woods for most of the way and then on a cycle path by the side of the road.
Diary Photos
---