Dora The Explorer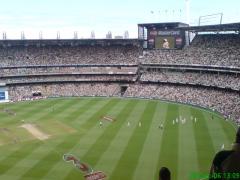 28th Dec 2006




3rd day at at the ashes



Absolute schocker..ok so hope no-one from work reading this as had to bunk a half day (I was actually ill) to watch the cricket at the MCG. Unfortunately though karma obs had other ideas as my phone didnt charge that day for some reason and therefore couldnt take any decent pictures!

Gutted as the Barmy Army were great entertainment - the aussies would start a mexican wave getting the whole stand involved ( capacity 79,850) and then as soon as it came to the army they would start heckling and stop it from carrying on. Funny to watch, and their chanting was classic..but apparently the top boy who founded it all has a mullet and spray on white jeans which probably belong to his missus so all respect lost really.

It was freezing cold so lots of layers were needed as were plenty of hot drinks, I managed to get there for 12.30 after legging it from work. I got lost getting in and managed to find myself on level 4 which was the hospitality suite - I did try and blag my way in but to no avail. So relegated back to the stands armed with loads of scarves and gloves.

The day was good fun but by 5.45 when it all kicked off I was ready to leave..Just as Warney was being clapped off the pitch work rang which made me laugh. Later that night I went out with the Fishers (Gillie /Lou /Simon) who very kindly shouted me dinner.



Diary Photos
---