Dora The Explorer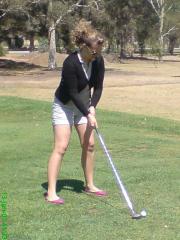 13th Jan 2007 - 14th Jan 2007




Royal Park 1st 9hole game & Cape Shanck



So the end to my week of working in ANZ culminated in a nice round of 9-holes at the Royal Park golfclub with the guys whom I had taken lessons with. It took us 2 & 3/4 hours to get around- which wasnt bad considering we were not rushing and taking our time to play shots, but we applied golf etiquette and made sure that other people on the course were playing around us. The only compliant I have were the t@ssers who were impatient with our novice-like behaviour..everyone needs to start somewhere!!

We were all shattered afterwards- but I guess that will get easier the more we play. I intend to keep golf up all the while I am out here at least as a round is sooo cheap.

The afternoon saw me heading down the coast to Mornington Peninsular -check map:
http://www.visitmorningtonpeninsula.org/... its the little pokey out part just south of Melbourne where the majority of Melbournians have holiday homes. Its like the south coast of the UK but hotter, better beaches and nice holiday homes. I visited the various areas of Rye,Sorrento (where I found Spargo's restaurant!) and Portsea.

We stayed at Cape Shanck, the southern most part of the tip famously reknowned for its spectacular 18 hole golf course. Unfortunately the course was fully booked from 06.30 onwards with hard core Lyle& Scott wearers so we decided to head out to Sorrento and check out the more physical sports it had to offer!! Check Pictures.



Diary Photos
---