My World Tour... well kinda!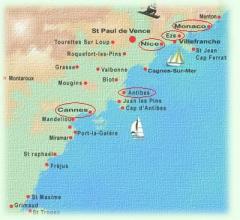 3rd Feb 2007 - 6th Feb 2007




Mon Weekend



I spent my weekend in the south of France! It was so beautiful. I was telling my mother today that it was almost hard to believe that I couldn't swim in the water because it was cold. My brain connects sun, palm trees, and blue seas with summer! I took lots of pictures so enjoy.

Nice:
We started our trip off with Nice. We stayed in Villa Saint Exupéry which is a hostel that has been voted as one of the top ten in the world. Not only was I able to have the best (and longest) shower that I have had since arriving in France, but they also gave us free breakfast, great detailed advice about how to get around/where to go, and cheap dinners-- ALL FOR A GREAT PRICE! They completely sold me with the 6.50 Euro steak dinner that was amazing.

Pictures--
http://picasaweb.google.com/nikitamitchell/Nice?authkey=tKGtaDaMCto

Cannes:
We woke up early Sunday morning in order to take advantage of the day. After spending a little time walking around Nice, we hopped on a bus headed to Cannes. We walked around a bit, ate some lunch, and took a train to Antibes that evening.

Antibes:
According to the wonderful people at the hostel, we just HAD to stop at Antibes. We arrived just after sunset. It is a gorgeous little area with an ancient sea wall. While walking on one side, you can see the 60 ft drop to the Mediterranean Sea on the other side. We stayed for about an hour - just enough time to take some pictures and make it home for pizza any way we want it for 5 Euros!

Pictures--
http://picasaweb.google.com/nikitamitchell/CannesAntibes?authkey=xRoUg78e7rk

Monaco:
(Information taken from Wikipedia.com) The Principality of Monaco, more commonly known as Monaco, is a constitutional monarchy and city-state in Western Europe located along the French Riviera between the Mediterranean Sea and France. Monaco is the world's most densely populated country and second-smallest independent nation and is the world's smallest French-speaking sovereignty. The capital is Monaco-Ville and the most populated neighborhood/city is Monte Carlo.

I thought that is something you might want to know because most people have never heard of Monaco or they don't know it is a country separate from France (I didn't know that until this weekend). We left on Monday morning and on the way to Monaco - by bus - we stopped in Eze. There you will see in my pictures there is a very old town that is still the way it was forever ago. I don't know if anyone lives there now but there are several cute little shops and a few hotels.

Pictures--
http://picasaweb.google.com/nikitamitchell/EzeMonaco?authkey=KnJTfOMXHWE

On Tuesday morning, we hopped on a train to Grenoble and I have been sick ever since. I hope it gets better before we leave for Venice Thursday night. The last thing I need is to be sick in a cold and rainy city during its carnival! Pray for me :)



Diary Photos
4th Feb 2007 French Riviera
The circles indicate the places I visited this weekend.
---