Linda and Seamus USA Trip2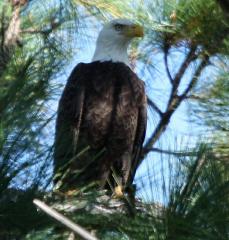 29th Nov 2011 - 1st Dec 2011
Little Talbot Island State Park
We said our farewells to our six new friends at McIntosh Lake (it is always difficult to leave a place when you have enjoyed yourself so much) and headed off. Within a couple of hours we had entered Florida, our ninth state in Harvey. It was a lovely journey as the area has an abundance of waterways and there were many salt marshes. We stopped off at a Walmart so that we could skype Linda,s mother and then headed off up the road and back again and then up the road - yes, we went wrong! We arrived at Little Talbot Island State Park which is a barrier island and booked in. The sites were nestled between the palm and live oak trees which looked very pretty but took some negotiation in terms of getting Harvey into position without catching low lying branches from the live oak trees. Seamus went to connect up the power and was greeted by two little frogs sleeping inside the electric hook up box. We had a wander around and settled in for the evening. It was not long before the Great Horned Owl was hooting close by - it is such a lovely sound.
On Wednesday morning we decided to telephone the site where we are going to be staying for a month or so in order to confirm our dates. There was a pay phone on site which we used and it was a good job that we made the call at that time because within thirty minutes a workman had removed it!!! We thought that we would hike the 4.5 mile loop through the woods and back along the beach but unfortunately high tide was only an hour away and it did not give us enough time to do the loop before it was impassable and so we went back the campsite and hiked the nature trail. It was gorgeous and Seamus spotted a bald eagle sitting in the tree watching us. We also saw a spotted sandpiper and a northern harrier which was flying low over the salt marsh. Later on we cycled to the beach and then went for a walk along it. We thought that it would be good to cycle along the beach and so put that on the agenda for Thursday.
We awoke on Thursday morning to the sound of two Great Horned Owls talking to each other - what a beautiful wake up call. We set off at 10.30am to do the wood and beach hike. It was very buggy and we were glad to get out of the woods but sadly we had been ill-informed by one of the rangers and the tide was almost fully in, making the beach part of the hike impossible. So, we had to brave it and head back through the bug infested woods. In the afternoon we took the bikes to the beach but would you believe it - the wind had got up and made it impossible to cycle against it.
Diary Photos
30th Nov 2011 The Bald Eagle
These birds are enormous and he certainly had his eye on us
---
1st Dec 2011 Sunset over the salt marsh
---