Dora The Explorer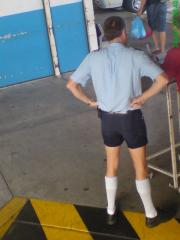 25th Jan 2007 - 13th Feb 2007




LEI



Well the last few weeks have been pretty amazing really in terms of the wildlife I see everday both out of the water and in the water. Its so hot here the only time I dont sweat is when I am in the water - nice!!! My diet seems to consist of mostly melon and fruit for most of the day to keep my fluids up till dinner when its cool enough to sweat a little less!! Its breeding season for many bird species here so its the air is full of mating calls, bird shit and baby chicks everywhere,

It amazes me every day how close to nature we are. Every day I snorkel I have to pinch myself that there really are manta rays, loggerhead turtles , reef sharks swimming straight past me..however with that comes the nasties in the form of blue bottle jellyfish. Sods law I have suffered serious reactions to these stings where I bleed immeadiately under the skin developing huge blood blisters so its a full wet suit all the way for me until the things leave the area.

There's talkabout a bull shark and a tiger shark living in the area which excites me a lot- although we dont tell the guests that!!!!!!! It does annoy me greatly how ignorant people are in general when it comes to shark attack,I am finding its the kids who are happiest in the water!



Diary Photos
---