Jo goes wandering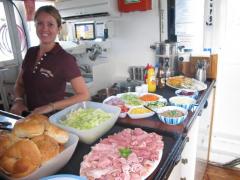 1st Dec 2011 - 11th Jan 2012
Boat life
When I first got to town I had no idea how it was going to work out. Airlie beach is laid back and hectic, touristy but cool and very small. It has gorgeous views out over the bay with palm trees and boats in the water. I wanted a job on a boat but doesnt everyone. I spent the first few days networking, talking to everyone and I mean everyone in town. Leaving messages everywhere and stalking boats down at the marina as they come in to talk to the skippers to try and get job. I got lucky and got my break only a few days in. I talked to a skipper and he needed someone and this is how I ended up on summertime. That is the name of my boat. It is a converted 1940's fishing boat which now takes tourists out int he whitsundays for 3 days and 2 nights at a time. My job is know as Hostie. The main deal is to cook all meals and snacks for everyone for the trip. It also involves a bit of cleaning and taking photos, helping everyone get geared up for diving and snorkelling and generally mingilling with the passengers making sure they are ok, safe and having a fab time. I am like their boat mum. Feeding them, making sure they have everything they need for each activity and reminding them not to leave stuff lying around or it accidently ends up overboard! On board there is me, a dive instructor and a skipper and about 18 passengers. Days are busy. On the first day I arrive at the marina about 7.30am and we get ready for the passengers, putting the boat back together, sorting out bed allocations and starting the cooking. The passengers arrive and we meet and greet them and go through some safety breifings and then we set sail about 9am. I show everyone where they will sleep, how to use the toilets etc and get lunch and some dinner prep done.We spend the rest of the day sailing round the islands and on whitehaven beach, its tough life! At the same time I cook and the dive instrucotr gets them prepared for diving and snorkelling tomorrow and we all desperately try and remember everyones names! usually in the evenings we moor somewhere that will be as calm as possible and have dinner and on a good day a dolphin or two will pay the boat a visit and put on a bit of a show. We have planty of time to enjoy some awesome sunsets and later the stars.The dive instrucotr gives them a bit of a talk in teh evenings about the reef and islands and show them some photos of what to look out for. By this time it is usually abut 10pm and people chill out for a while and then head to bed mostly by about 11pm. Then we head to bed. Just for the record we do not have a super crew private cabin, we sleep in various odd places around the boat, I sleep in a strange 3 sided hole down the back of the galley which is actually fairly comfortable.
Next day we are up just before 6am and me getting breakfast ready whilst the DI gets dive gear ready and usually we pull anchor and head for our first dive or snorkel spot. By 7am we have the passengers up and eating breakky and we have arrives wherever we are snorkelling / diving. Then the whole day involves snorkel / diving for the pasengers and cooking and filling dive tanks for me. We move spots a couple of times and take loads of photos and heat the spa for later. The day is extremely busybut great fun. On a good day for me I can get everything done and jump in for a quick snorkel with the guests. Evening is the same routine, sail, sunset, chill, hot tub, dinner, talk. For me it involves alot less chilling and alot more Cooking!! By about 10-11pm we are back to bed ready to get up and start over the next day. Same early start but this time its usually kayaking in the morning then sail home in the afternoon. We get back in about 3pm and unload the passengers then clean up and finish by about 5pm. Just in time to get home, shower and get out to meet our passengers for their boat after party in one of the local bars.
Life gets confusing because you go to work one day and come back 3 days later so time just flies. Usually we work 2 trips in row and then have one off. I go back to work tomorrow morning for two back to back trips but I have just had 4 days off so I am excited to get back out there again. Its actually really hard to explain and even harder for you to imagine I would guess. I will try and get some pictures up soon until then you will just have to take my word for it, its a very different kind of job but it rocks, although it wouldnt be for everyone.
Why this job rocks, at least just a few reasons.
I get paid to cruise around islands that people pay hundreds of dollars to see
On a good day I get to jump in for a mini snorkel or really good day a dive, I think that makes me a professional snorkeller/diver
Twice a week I visit whitehaven beach which is rated consistently in the worlds best beaches
I spend all day with people who are having a great time so it makes you happy.
The view from my office window is amazing
You can become a peoples hero with one word and alot of pointing "Dolphin", everyone loves a dolphin.
I spend my days saying " so what did you see" "wow thats awesome" "a turtl, very cool" " a massive wrasse, amazing" everones excitment is infectious and you see new stuff every trip.
I have never been to a town where they give you so much free beer.
Diary Photos
---