Peter and Terry's Adventures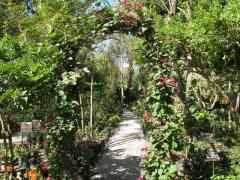 11th Jan 2012 - 14th Jan 2012




Just living here



Well, as we told people, we are not visiting, we are living here. So obviously we are visiting and everything is new and we are sorting out the "just living" things along with the touristy things. The last few days have been pretty normal in the sense that we went to the Bodegona just about every day, and walked around the city. Spanish lessons on Wednesday and Friday afternoons. Yes, we're still struggling, and in spite of a heavy drill on numbers, I was out of my depth at el mercado this morning.

Mariane and Wyllys had a great party on Friday night. Something like 80 people, who all crowded into a tiny spot by the bar and food. Doesn't that happen all the time? There was actually plenty of space in the house. They seem to know everyone in the city, including some of the long term and founding families in Antigua. We met a number of new people, and hope to see them again soon.

Today (Saturday) was market day again, and Lyne decided to take us to the meat and vegetable people. The deals are fantastic by our Canadian and Eastern Caribbean standards. We would have liked to take pictures, but the wisdom is not to take a camera unless that's all you are carrying. Next time. Lots of the indigenous folks were there, all with produce from their own garden plots. Lyne said some of them drive 4 hours to come to the market.

In all we bought lettuce, onions, carrots, broccoli, tomatoes, beef ribs, stew beef, a chicken (dead and cleaned of course...), shrimp and a big red fish fillet, of undetermined type, but looked great, as well as pineapple, papaya, green beans and 30 eggs for 25Q (under 3 dollars).

Back "home" we washed all the produce in the cleansing solution that is sold everywhere here, and Terry took pictures of the spoils.

The find of the day was a dozen birds of paradise flowers for 15Q, which is just under $2. Each stem would fetch $15-20 in Canada. We distributed them among the 40 lilies we bought last week for just 10Q, and the place looks great.

We are invited to a brunch on Sunday, and so it goes.

Today is "change of government day" in Guatemala, and we are expecting lots of fireworks this afternoon and tonight.



Diary Photos
---