Linda and Seamus USA Trip2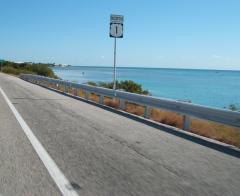 7th Jan 2012 - 14th Jan 2012
The Everglades and back to Clermont
On Saturday we were up early in order to avoid the 8.30am breakfast rush because we wanted to get up to the Everglades in time to spend the afternoon there. We made a short stop at Anne's beach on the way and Nicky could not resist going for a paddle - it looked so inviting.
When we reached the Everglades we decided that we wanted to walk the Anhingha trail as it was said to be excellent for bird and reptile viewing. On our way to the trail we spotted an alligator by a little pond of water and this was Nicky's first sighting of one in the wild - she couldn't believe it when Linda stepped out of the car to take a photograph. The Anhinga trail was really lovely – and sure enough teeming with wildlife and birds. Alligators lined the banks of the water whilst Anhingas sat in the trees drying off from a recent fishing expedition, their wings spread out. When Anhinghas are fishing they can look as though they are snakes swimming in the water. A new spot for us there was the purple gallinule. By the end of the walk Nicky was much more relaxed in the company of alligators. We returned to the Kendall Hotel, shattered.
Sunday was another fairly early start as we wanted to make the most of our time in the Everglades. We drove down to Flamingo in the southern part of the Everglades. It was a little disappointing but on the way back we stopped off at Mrazek Pond and it was wonderful. It was absolutely teeming with birds and Linda was thrilled to see her first roseate spoonbill. The weather was absolutely glorious and so we made this our lunch stop. We then headed off to the Shark Valley visitor centre. By this time it was 4.15 in the afternoon and so we decided to take the tour bus around the park. We climbed an observation tower about half way round and enjoyed wonderful views across the Everglades. Then we travelled the Tamiami trail which is the main road that runs through the Everglades and by the time we got to Naples which was where we were spending the night it was 7.45 and we were all hungry. So, we dined out and finally landed at the hotel at 9pm utterly exhausted. We all slept well and were up at 6.30am on Monday in order that we could have breakfast at 7.30 and leave for Everglade City where we were booked on an airboat tour. Our boat carried six people but we were lucky enough to have it to ourselves. We set off and were delighted to see dolphins fishing in the river before we headed into the red, white and black mangrove swamps – the Seminoles used to called the red mangroves walking trees as their red roots travelled out to the water – the roots can be seen above the water but they were pointing downwards. The ride was, in true American speak "awesome". We glided across the mangrove swamps and the grass lands, skidding around the bends and coming to a standstill at various points to admire the alligators and belted kingfishers and numerous herons and egrets. It lasted about an hour and was great fun. Then it was time to head back to Clermont and Linda and Seamus took turns at the wheel, arriving back at Harvey at around 5pm. Before we had set out for our trip down south, we had decided to set a few mousetraps which turned out to be a very wise decision as we had caught one. We think that it had only been caught that day as it was not showing any signs of rigor mortis!!
We had a more leisurely start to Tuesday and Nicky and I went shopping for the last minute things she still wanted to purchase and also Nicky wanted a haircut which was much cheaper than in the UK. We chilled in the afternoon while doing the laundry and other mundane chores. Would you believe it - another stink bug appeared!! We were too tired on Wednesday to do a trip to SeaWorld which was a request from Nicky and so we had a day of rest and recuperation and went to SeaWorld on Thursday. She and I had been to Seaworld in San Diego a few years ago and thought it was wonderful but unfortunately the Disneyworld version did not measure up to it at all. However, we all thoroughly enjoyed the day and watched the dolphin show twice as it was spectacular but the number of exhibits was disappointing and every two yards there was a shop selling something or other.
Friday was departure day for Nicky and we cooked her a steak for her last dinner which she thoroughly enjoyed. We drove to the airport and arrived at exactly the right time for check in. They were loading the plane early and as Nicky had a little airport shopping that she wanted to do, she decided to go straight through to departures. Even though we would be going back to the UK ourselves in four weeks' time, it was a tearful farewell for all of us. Harvey seemed very strange with just two residents now!
We still had our hire car for a few days and so on Saturday we decided to go back up to the Flagler beach area and drive a scenic route that we had been unable to drive in Harvey because of height restrictions. The drive there and back was lovely and we had lunch at the beach and we had a lovely day but we were disappointed with the scenic drive as the scenery was essentially posh houses in front of the scenery.
Diary Photos
---