Debbie does...round the world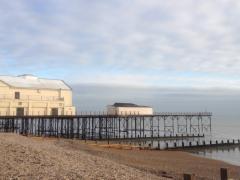 8th Jan 2012 - England day trips
Bognor Regis - UK
Decided to do a wee day jaunt - had been going on about Bognor Regis for a while. Three reasons - it is the end stop of my commute from London to Horsham every weekend,Hi De Hi, and it is on the coast - a chance to see and hear the sea.
MR was reasonably keen - probably to shut me up from going on about having never been there. Decided to take the train as much cheaper than taking the car - about £5 each cos of my networkrail card. Left about 1030 so up early for me. Took about 50 minutes to get there and the station in the town centre so easy to get around.
Took a roundabout walk to the town centre - essentially went the wrong way out of the station and took a circular route around the houses. Weather wasnt spectacular but then again was bad either. MR very kindly found me a Costas - he knows I love Costas and we settled for a vanilla latte for me, his tipple of choice after a bit of experimentation seems to be a cinnamon latte.
Then down to the coastal area - a 10 minute walk. Found some fush n chups for £3.50 each so very cheap and the chips were some of the best i have tasted in England. Sat on a seat on the promenade watching the seagulls and the waves. Took a long walk going both days - the beach huts were deserted and werent as colourful as they should have been. Walked back the other way and past the 'Hi De Hi' camp - just across the road from a pebble beach - sandy if the tide is out. The rain started about now so walked back into the town centre. Quick bit of browsing in shops and back on the train towards Horsham.
A lovely day - not a lot of people around and it is winter - would be nice in summer without the crowds.
Diary Photos
---