Thai thoughts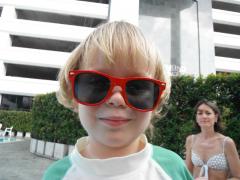 23rd Mar 2012 - 30th Mar 2012
Weddings and farms
Hector and Noah resisted any temptations to pour water over friends and push other children and had a great week at school. They are back to feeling better! They are currently doing great impressions of rabbits and fibbing saying the shower is broken so they don't have to wash and hiding stones in their beds...so being boys really.
We enjoyed a wonderful wedding, Ali and Jim had the most unique service with Morgs as a vicar, and friends writing a ceremony that was touching, hilarious and romantic, a gorgeous day! I enjoyed Nick's duet and the the little boys chasing girls. We have now witnessed the twins singing, they obviously get their talents from me...shouting, tuneless shouting, I really hope it improves.
We then took the boys to Chokchai farm which was awesome, you can feed rabbits, ride horses, see cows being milked (and here and only in Thailand is someone paid to wipe the cows bottom when it has pooped!!) Obviously the boys thought the poop was hilarious and having someone that could wipe bottoms, well, that was all they spoke of for days! They loved feeding the rabbits and thankfully didn't enjoy seeing the dog in a tutu jumping through hoops.
http://www.patana.ac.th/BPSnet/blog/index.asp?id=381 boys blog at school, leave a comment!

http://www.patana.ac.th/BPSnet/blog/index.asp?id=220 my class blog
Our plans so far....Sat 7th Arrive Heathrow 22.00
Sunday 8th Recovery day in Huntingdon, trip to see Thomas the Tank engine

Monday 9th Party at Jon and Kate's in Weybridge

Tuesday 10th Wickstead park

Wednesday 11th. in Huntingdon. Jonathan, Chris , Kate, Lucas, Benedict, Max scheduled to arrive
Thursday 12th At home, boys golf day
Friday 13th London
Saturday 14th wedding
Sunday 15th Depart Retford until flight on Saturday to Thailand
Anyone around on Friday the 13th for a drink in London?
Diary Photos
---