Cookies Great Escape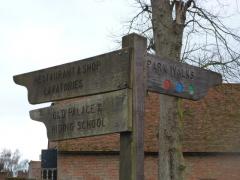 8th Apr 2012
Hatfield House, St Albans
Hi Again,
Right update time! On the Sunday of Easter, Emma, Caro, Chris and I headed out for another roadtrip (I thought we may have been uninvited after Fridays but no!! ;-) This time we were off to see Hatfield House which is a country house set in a large park (aka the Great Park) on the eastern side of the town of Hatfield which is Hertfordshire way. The house was built in 1611 by Robert Cecil, who was the First Earl of Salisbury as well as the Chief Minister to King James I and has been the home of the Cecil family ever since.
According to Wikipedia (I have a poor memory) the palace was the childhood home and favourite residence of Queen Elizabeth I. Built in 1497 by the Bishop of Ely, Henry VII's minister John Cardinal Morton, it comprised four wings in a square surrounding a central courtyard. The palace was seized by Henry VIII with other church properties.

Henry VIII's children Edward and Elizabeth spent their youth at Hatfield Palace. His eldest daughter Queen Mary lived there between 1533 and 1536, when she was sent to wait on the then Princess Elizabeth, as punishment for refusing to recognise Henrys marriage to Anne Boleyn and his religious reforms. In 1548, when she was only 15 years old, Elizabeth was under suspicion of having illegally agreed to marry Thomas Seymour, the House and her servants were seized by Edward VI's agent Robert Tyrwhit, and she was interrogated there. She successfully defended her conduct with wit and defiance. Seymour was executed in 1549 for numerous other crimes against the crown. After her two months of imprisonment in the Tower of London by her sister Queen Mary, Elizabeth returned to Hatfield. The Queen Elizabeth Oak on the grounds of the estate is said to be the location where Elizabeth was told she was Queen following Mary's death, but is considered unlikely as Mary died in November. In November 1558, Elizabeth held her first Council of State in the Great Hall.

The Third Marquess of Salisbury was three times Prime Minister during the closing years of Queen Victoria's reign. The city of Salisbury (now Harare) in the colony of Rhodesia (now Zimbabwe) was founded in his time, and named for him. He is also known for often putting members of his family into the Government while Prime Minister. As his first name was Robert, this habit gave rise to the still-popular expression 'Bob's your uncle' (meaning roughly 'It's all right, everything is sure to come off')
Not sure if that was interesting by tough!!! We took our time wandering through the house, looking at items from the Queens time while Chris wizzed through and waited very patiently outside for us! ha!
The gardens of Hatfield House were really impressive. They covered about 40 acres and included orchards, fountains, scented plants, water features, terraces, herb gardens, a foot maze as well as a statue walk. During World War I, the grounds were used to test the first British tanks. Apparently the area was dug with trenches and craters and covered with barbed-wire to represent no-man's land and German trench lines on the Western Front.
After exploring Hatfield house we headed to St Albans where we went went for lunch (very late lunch) at Ye Olde Fighting Cocks which is one of several that lay claim to being the oldest in England. Given it was a sunday we thought it rude not to have a roast for lunch (it was literally a whole chicken!!!). Really cute pub with really low ceilings and lots of little alcoves. Next up we walked back up the hill (difficult after eating 1/2 a chicken) and wandered through St Albans Church which was really nice.
Then it was london bound... another nice day out!!
x
Diary Photos
---