Next adventure Scandinavia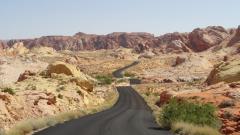 5th May 2012




Las Vegas - Valley of Fire NV



Wir müssen nochmals zurück zu Campingworld. Der neue Wasseranschluss singt in den höchsten Tönen, sobald wir einen Wasserhahn aufdrehen. Nachdem auch dies behoben ist, fahren wir 100 Km westwärts in den Valley of Fire Statepark und stationieren uns im Atlatl Rock Campground. Die Sandsteinformationen im Park und auch rund um den Campground schillern bei Sonnenschein in allen Rot- und Brauntönen. Bei Sonnenuntergang ist es bereits mucksmäuschen-totenstill, bis eine Nachbarin virtuos auf einer Flöte indianische Melodien zu spielen beginnt. Und die Hänge der umgebenden Sandsteinmonumente reflektieren ihr Flötenspiel. Was für eine mystische Stimmung in dieser grandiosen Szenerie.



Diary Photos
5th May 2012 Valley of Fire
---
5th May 2012 Valley of Fire
---
5th May 2012 Valley of Fire
---
5th May 2012 Valley of Fire
---
5th May 2012 Valley of Fire
---
5th May 2012 Valley of Fire
---
5th May 2012 Valley of Fire - Atlatl Campground
---
5th May 2012 Valley of Fire - Atlatl Campground
---