Next adventure Scandinavia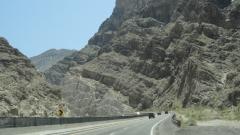 6th May 2012




Valley of Fire - Springdale UT



Nach dem Valley of Fire führt der Weg wieder durch steppenartige Wüstenlandschaften. In Mesquite dann die letzten Casinos, bevor es über die Staatsgrenze nach Arizona geht. Einzige Abwechslung in der eintönigen Landschaft bietet die Durchquerung der Virgin Mountains durch tiefe Schluchten. Nach 50 Km sind wir in Utah und schon bald zeigen sich die imposanten Berge des Zion Nationalparks. Beim Parkeingang in Springdale stationieren wir uns für die Exkursionen in den Park.



Diary Photos
6th May 2012 Virgin Mountains
---
6th May 2012 Virgin Mountains
---
---
---
6th May 2012 Zion Nationalpark
---
6th May 2012 Zion Nationalpark
---