Hedy + Peter back on the road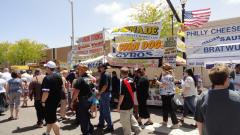 26th May 2012 - 27th May 2012




Colorado Springs CO



Erst 1871 gegründet zählt Colorado Springs heute über 400'000 Einwohner. Auf 1800 M.ü.M. gelegen an den Ausläufern der Rocky Mountains im Westen und den Great Plains im Osten ist es eine der beliebteren und exklusiveren Wohnregionen der USA.
Abgesehen von einem eher kleinen Zentrum mit modernen, hochgeschossigen Gebäuden ist der Rest der Stadt geprägt von vielen schönen Parks und baumgesäumten Strassen und Plätzen. Grosser Beliebtheit nicht nur bei den Touristen sondern auch bei den Einheimischen erfreut sich der am Stadtrand gelegene "Garden of Gods" mit seinen teilweise bizarren Sandstein-Formationen.



Diary Photos
26th May 2012 Old Colorado City
---
26th May 2012 Old Colorado City
---
26th May 2012 Colorado Springs
---
26th May 2012 Colorado Springs
---
27th May 2012 Colorado Springs - Garden of Gods
---
27th May 2012 Colorado Springs - Garden of Gods
---
27th May 2012 Colorado Springs - Garden of Gods
---
27th May 2012 Colorado Springs - The Airplane Restaurant
---