Dora The Explorer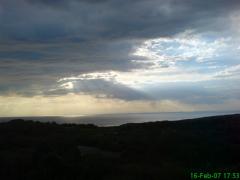 14th Feb 2007 - 18th Feb 2007




Terra Firma- Melbourne again



So guys it was nice to be back on the mainland again and mingling with society....the joy of entering a bar, going shopping, and playing golf again. Melbourne was spent chilling out, having ears syringed, seeing in the Chinese New Year with friends and generally staying out the of the sun.

Its been 38 here for the last few days- stinking heat which with the grime of the city has made it unbearable. Just as I was leaving for Avalon Airport last night the heavens opened, which is good for the Victorians as they are still on level 4 drought alert. Even here in Brisbane today its a damn lot cooler than previous. Am off to Hervey Bay this evening by tilt train from Brisbane ( goes all the way to Cairns) then staying at a hostel before catching my flight back to LEI tomorrow morning.

This stint is only going to be about 2 weeks as off to NZ with my darling mother....Yes I cant wait to see you, you;ve been in my dreams for the last few nights! Remember you wont wear half of what you are intending to bring so capsule packaging perhaps?

Dad Happy 60th for the 25th...Not sure what the post out here is like so keep your eyes peeled to your Dutch address.

So have been spending some time looking into the possibility of working for myself - on a consultancy basis.,it seems the feasbile option for Marine Biologists over here rather than working for someone else..so am looking at short courses which I can distance learn..watch this space.



Diary Photos
18th Feb 2007 Sorrento by night
No Description
---
18th Feb 2007 Sorrento ny Sea
No Description
---