Vagabonding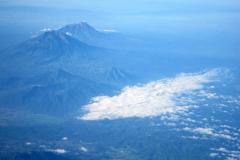 5th Jun 2012
Indonesia is an interesting place
I'm actually writing this entry, because it is somewhat strange to me that my blog does not appear in Get Jealous searches for "Indonesia"....and I think it might if I have the word Indonesia as the first in a diary title. I have now lived in this interesting country for almost 3 years- wow! It was this time in 2009 that I was making preparations to leave Vietnam, and it was in mid-July that the bombings happened in Jakarta and people started to worry about where I was moving to. Never once did it cross my mind not to come here, it was like I was being drawn to this country and city, where I didn't know a soul. I loved Jakarta from the moment I arrived, and have been entranced by the culture and beautiful places that abound here.
Did you know that in the last census, the population of Indonesia across all it sislands was 237 million people!? This fact still astounds me. The city of Jakarta has a population that is about the same as the entire population of Australia- totally crazy and mind blowing! By 2035 the expected population is 315 million! Indonesia is actually the fourth largest country in the world when measured by population. Unfortuunately, a lot of the population is living in poverty- and this is despite having a rich abudnance of natural resources. This is a rather sad state of affairs that more than half the population earns about US $2 per day, yet billions of dollars worth of resources are mined and exported every day.
Did you know that Indonesia is made up of 17,508 islands! About 6,000 of these islands are inhabited by people- I'd love to claim one of these far flung islands as my own :-) You probably know that Indonesia is in the tropics, but did you know the temperature rarely changes for the entire year? This is because the islands are located a few degrees from thr equator. Usually it is a minimum of 27 degrees celsius and a max of 30 degress. I have experienced Jakarta when it was "cool" at about 25 degrees, and also when it has been much hotter- about 35 degrees (it is stifling!).
Did you know that Indonesia has the second highest level of biodiversity (a measure of the number of plant and animal species) in the world? This doesn't suprise me! In the walsk through national parks and diving I have done, there has been a huge array of interesting things to see. Some of the rare creatures found in the archipelago include a miniature deer, fish that climb trees to catch insects and spiders that catch and devour small birds in giant webs- super cool! Less cool and more intimidating is that this country spreads over the notoriou "Ring of Fire", situated in Western Pacific. There are over 400 active volcanoes across the country and there are on average 3 earthquakes per day on any given place. I've experience three small shakes since I lived here- two in my frst month! Very scary!
I just love the local food ingredients (though I am not a huge fan of the local dishes) which are used commonly in dishes here- spices, chillis, coconut milk- yum! I also LOVE tempeh which is a very cheap and very delicious protein source- a food made from fermented soybeans, and is traditionally made using a very secret recipe that is passed down through families. I love that a block of tempeh here costs about 20 cents from any market- in Australia, a small block would have to be purchased from a health food store for about $8!

It is clear that Indonesia has captured my heart. In fact, my love affair for Indonesia literally extends to a true love affair, my Indonesian fiance who I will marry next year on one of the beautiful beaches of Lombok. Looks like Indonesia is going to be home for a while...
Diary Photos
5th Jun 2012 Aerial view of central Java
---
5th Jun 2012 I love Indonesia
---
5th Jun 2012 I <3 Indonesia
---