brilliant beavers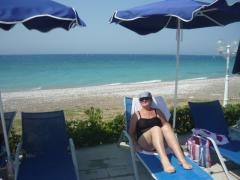 16th Jun 2012 - 22nd Jun 2012
Sun Beach, Rhodes
We arrived Sun Beach, Rhodes late on Saturday and after 30 restless hours we just got the necessaries from a 'supermarket" over the road and slept. The resort is part of the timeshare and it is 5*. Beautiful Mediterranean sea just at the end of the grass, Balcony overlooking the sea, apartment with separate bedroom lounge kitchen and bathroom.
Sunday was spent exploring around the park facilities, the pools, the beach, the local area and checking out tour options.
Three swimming pools a tennis court games room and plenty of kids entertainment.
After the pool and a swim in the Aegean, I was sitting naked on the balcony with an ouzo, waiting for Annette to shower, listening to the waves lapping at the beach, looking at the mountainous view of Turkey through the haze and thinking; this is paradise!
Our big plans for Monday evaporated when we overslept. So we just ambled up the street towards Ialyssos town, stopped around 3 for a beer in a local Greek tavern. Did sweet BUGGER ALL. It was really great just soaking up the greek atmosphere. A fantastic Greek Meze for dinner with ouzos to finish.
Tuesday we hired a car for three days drove to Rhodes and went to the Ancient City. Lou driving on the right side of the road steering wheel on the left side of the car. It takes a bit of getting used to.
Wednesday we headed to the other end of the island through little villages with glimpses of the sea in between. I did some of the driving to give Lou a rest. It was great to be able to just drive where ever you wanted to go and also a great sense of achievement to know I can drive anywhere. We visited Lindos on the way home only to discover there was so much to see there that we would have to go back next day.
Thursday I drove to Lindos (about 55 km) over the hills and on the freeway. We went to the ancient town of Lindos climbing up the steps and alley ways. The legs ached and I had to keep stopping to get my breath the perspiration ran down your face back climbing climbing climbing. Anyway on the way down a Swedish guy told us that the temperature was 39 degrees. After our picnic lunch (which we had taken with us) we went for a swim in the Beautiful bay at Lindos.
Friday our last day in Rhodes we are just staying around to catch up on more swimming and computer stuff and checking everything is right to head off tomorrow to Athens.
Diary Photos
---