Harry and Judy's RV Trip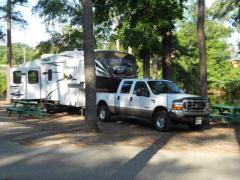 19th Jun 2012 - Summer 2012
Here we go again
We had so much fun on our trip last year that we decided to do it again this year, only we're starting out a bit later so when we get up north we (hopefully) won't run into any of that cold wet white stuff that will remain un-named.
At the beginning of the trip we have a few stops planned but after the first 10 days or so we're just going to wing it and go where the RV is pointed.
We'll keep you posted along the way and hope you enjoy reading about our trip.
Diary Photos
19th Jun 2012 Our 5th Wheel
---